Senior Paediatric Regional Advanced Training Programme for ST6-8 Paediatric Doctors
The programme includes 15-20 training days per year mapped to the RCPCH Progress level 3 curriculum. For each training day we incorporate the specific curriculum areas we aim to cover. 
Location: Yorkshire and the Humber – East, South and West. The organising committee understands some of the practical difficulties associated with attending specific face-to-face training days. Although most of our training days are being organised in the more " traditionally" used venues (ie. Sheffield Children's Hospital Postgraduate Center and Leeds General Infirmary) because they are better known and readily available to organisers, we aim to move towards the online space in the coming year. By making more resources available online here, on the School of Paediatrics website, we hope more paediatric doctors will be able to access our training resources. 
The programme is trainee-led with trainer suggestions and supervision. Our organising committee includes 15-20 members currently at Level 3 training.
The 2020 Committee Chair is Dr. Monica Negoita, West Community Child Health Grid trainee, paediatric ST6 - available for enquiries and suggestions at: monica.negoita@nhs.net
We are delighted to have admin support from the Bradford Medical Education team. Our lovely colleague Vicky Williamson is contactable at sprat@bthft.nhs.uk for enquiries. 
Highlights from previous years: 
SPRAT Poster presentation at 

​RCPCH Annual Meeting 2019 
For more information about our journey so far and future plans please read the SPRAT Committe Minutes:  April 2019        November 2018   September 2019    April 2020 
Coronavirus pandemic related update: 
Due to the COVID-19 pandemic physical distancing and lockdown requirements all SPRAT face-to-face training has been cancelled. As you will already know, there is still uncertainty around how long this situation will need to last for. Guidance at a national and regional level is being updated regularly. More information can be found on the coronavirus specific page here 
To ensure we still deliver relevant training through SPRAT we'll continue to upload resources on this webpage as they become available from our expert faculty. 
We will update our plans for SPRAT as new guidance is being developed. Please check this page regularly for updates.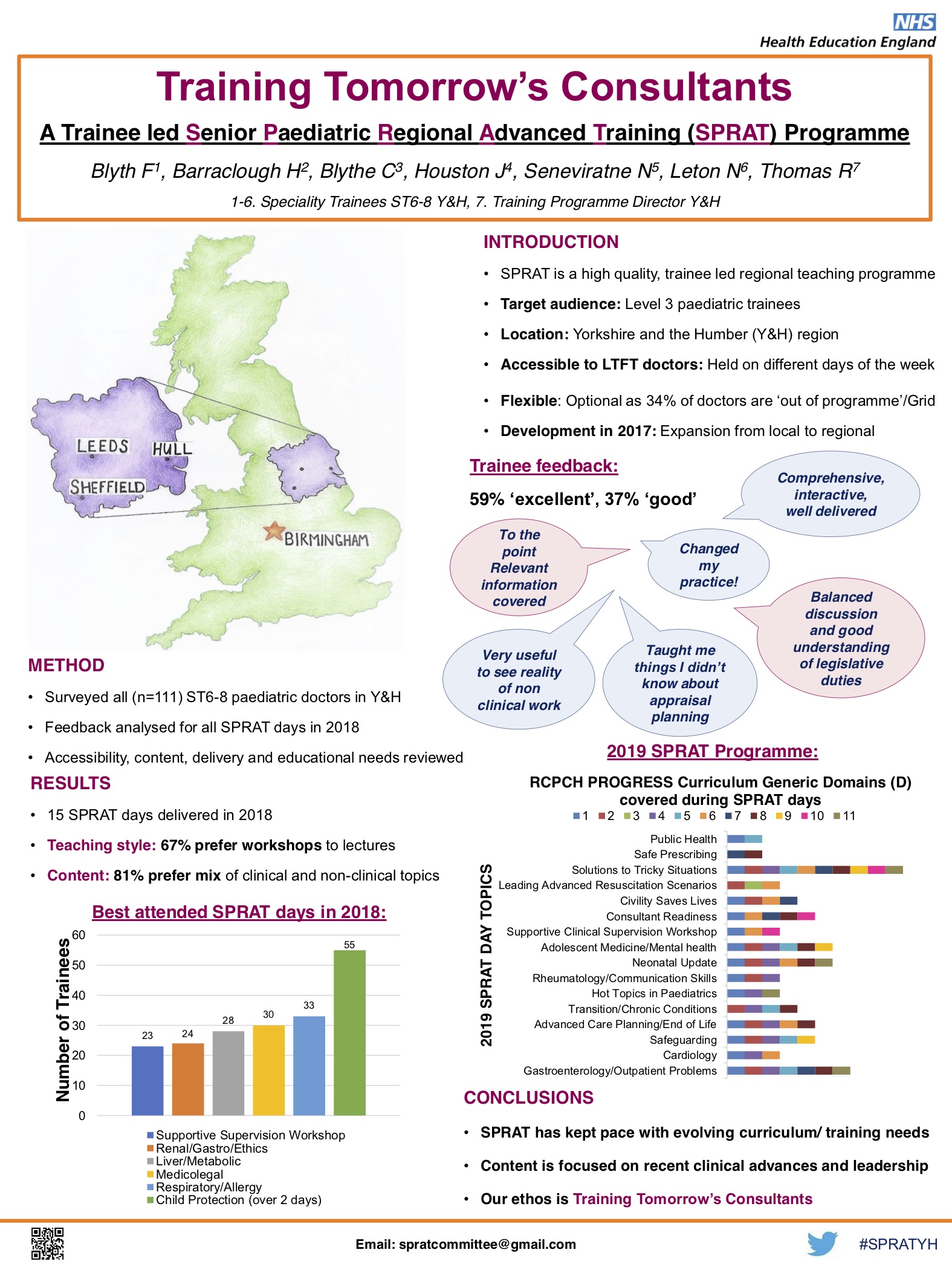 #SPRATYH