South
The South Yorkshire Anaesthetic Training Programme is the most geographically compact in the country and is based around the following hospitals
Barnsley Hospital
Doncaster Royal Infirmary 
Sheffield Children's Hospital
Northern General Hospital
Royal Hallamshire Hospital  
Rotherham General Hospital
The rotation prides itself on its friendly and supportive network of supervisors, college tutors and training programme directors. We really listen to our trainees and the programme has changed markedly recently responding to feedback from trainee representatives and supervisors.
During the early years on the rotation skills, knowledge and confidence will usually grow under careful supervision in the highly supportive district hospitals. More specialist knowledge will be gained at ST level in both district and teaching hospitals.
Core Anaesthetics training consists of 2 years, typically 1 year in a larger hospital and 1 year in a smaller hospital as decided by the Core Training Programme Directors. Trainees undertaking ACCS Anaesthetics spend 3 years as a core trainee (1 year Acute/Emergency Medicine) and 2 years anaesthesia, organised by the ACCS Training Programme Director.
For recruitment since August 2018 the structure of training at ST3-7 in HEE YH changed, recruiting to a pan-region structure, giving trainees a clearer pathway for their training, please see the FAQs for further details. 
Typically a larger proportion of time is spent in the teaching hospitals for speciality training especially as the concept of spiral learning means that the speciality blocks have to be completed twice.
Core rotations take place every 6 months in February and August on the first Wednesday of the month.
ST rotations take place every 3 months in February, May, August and November on the first Wednesday of the month.
Recent developments in the South include:
Making our supervision system more robust - to help guide trainees career decsions and to spot any trainees that need extra support
Development of several Advanced Modules for final year trainees - enabling them to enhance their CV and develop skills in their area of career interest
A programme to rotate our Supervisors through the ARCPs to enable them to guide their Supervisees more effectively
A rolling Supervisor Update programme to make sure Supervisors are abreast of the latest developments in the ever changing training landscape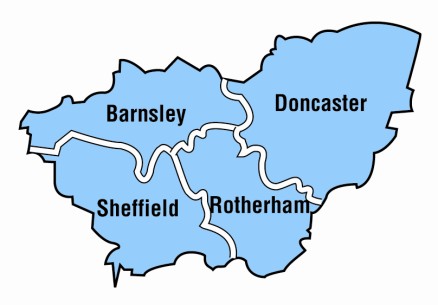 DONCASTER ROYAL INFIRMARY
LOCATION
Although the furthest away hospital on the  South Yorkshire rotation it is just a relaxing 40 minute commute 25 miles from the Sheffield Base Hospitals
Doncaster Royal Infirmary
Thorne Road
Doncaster
DN2 5LT
01302 366666
ABOUT THE HOSPITAL
Doncaster Royal Infirmary is a large, busy district hospital which provides a wide range of services to a population of around 420,000.
ROTA
The anaesthetic rota is a well organised 1:7 system
CLINICAL EXPERIENCE
7 main theatres (General, Vascular, Urology, ENT, Oral/Maxillo Facial surgery and opthalmology3 orthopaedic theatres (Trauma and elective orthopaedic surgery)2 womens services theatres (Breast and Gynaecology)There is a 24 hour emergency theatre provided on site 
ITU
The department of critical care has been approved for ………… level training
There is a 22 bedded Critical Care Unit which operates flexibly and can care for 10 level three and 12 level two patients at a time.
OBSTETRICS
A busy unit with around 5000 deliveries per annum 
TEACHING & TRAINING
There is a regular weekly teaching programme.The Trust has a state of the art Clinical Simulation Centre at the Mexborough site 
ADVANCED MODULES:
Educational Supervisors:
Clinical Supervisors:
ADDITIONAL
Doncaster Royal Infirmary:
01302 366666Ext 4155 Anaesthetic Department
Mrs Liz McKerchar
College tutor: Dr Richard Dobson
What the trainees have said (HEYH Annual Survey 2015 report)
"Excellent practical experience" 
"The anaesthetic department is an enjoyable team to work with. The spread of cases at DRI make it clinically excellent for experience also"
 "Wide variety of case exposure. Well supported" 
SHEFFIELD CHILDREN'S HOSPITAL
Location
The hospital is a 5 minute walk from the Sheffield Teaching Hospital base. A new car park has made parking much easier.
Sheffield Childrens Hospital
Western Bank
S10 2TH
ABOUT
SCH is a a dedicated Children's Teaching Hospital, with trauma centre status, on-site Paediatric A+E, PICU, HDU, Paediatric Acute and Chronic Pain Teams as well as a full spectrum of medical and surgical paediatric services.
Training opportunities are wide and varied and include: paediatric general surgery, ENT, orthopaedics, plastics, opthalmics, oncology, and paediatric emergency theatre work. More complex paediatric anaesthesia areas include: neonatal surgery, paediatric airway, complex orthopaedics, paediatric oncology, paediatric spinal/scoliosis surgery, paediatric neurosurgery and paediatric burns.
There are currently 16 consultant paediatric anaesthetists in the department. The theatre complex includes 7 theatres, a procedure room and PACU, with nearby GA MRI and CT areas. Building is in progress for 2 new theatres to include an intra-operative MRI capacity for paediatric neurosurgery. There is an active Paediatric Pain team, and regular multidisciplinary Paediatric Chronic pain clinics.
The opportunity to work in a dedicated, stand alone paediatric hospital gives unrivalled opportunity to enhance paediatric skills and knowledge
ROTA
The anesthetic rota is currently 1:...
TEACHING
There is a strong in-theatre Consultant based teaching ethos at SCH. Teaching and training opportunities include an in-house MEPA course, a curriculum based tutorial programme, weekly early morning Journal Club as well as an established APLS teaching base within the department. 
ADVANCED MODULES
An "Advanced Module in Paediatric Anaesthesia" is available for ST7 year - applications to module lead
CLINICAL EXPERIENCE
The Children's provides a breadth of paediatric anaesthesia experience and training in a dedicated paediatric environment, with experience ranging from neonates to adolescents, from elective day-case surgery in healthy infants and children, to complex co-morbidity and surgical procedures in highly subspecialty areas of paediatric practise
The department won the prestigious Regional Teaching Trophy in 2013
What the trainees say: (HEYH 2015 Deanery report)
"Very supportive consultants and department"
"Consultants are very supportive and eager to train. Very good teaching programme"
"Very supported and enjoyable department to work in"
"Very supportive department, both consultants, theatre staff and other specialties. Allowed me to practise with increasingly distant supervision and gain confidence"
LOCATION
Barnsley District Hospital, Gawber Rd, Barnsley, S75 2EP
Located just 12 miles north of the Sheffield Teaching Hospital Base
ABOUT
Barnsley Hospital is a 450 bedded district hospital serving a population of around 250,000. It has Trauma Unit status.
The anaesthetic department consists of 18 consultants and 7 specialty doctors. The department is well known for its friendliness and dedication to teaching and training. There is an excellent Postgraduate Medical education centre and a dedicated trainee seminar room for quiet study and small group teaching. The hospital has 9 main and 2 day case theatres.
ROTA
Barnsley runs an efficient  1: ... rota
CLINICAL EXPERIENCE
Experience in the following surgical specialities will be availble
Orthopaedics & Trauma
Gynaecology
Urology
Opthalmic
Oral Surgery
General Surgery (upper and lower GI)
Basic paediatric surgery
Emergency surgery
ITU
It has a a 7 bedded, newly refurbished combined ITU/HDU and a 4 bedded surgical HDU. Dedicated and protected ITU teaching and radiology teaching is provided
OBSTETRIC
A friendly 24 hr obstetric unit with around 3000 deliveries a year. 
TEACHING & TRAINING
 There is a well structured teaching programme for trainees that include
opportunities to learn fibreoptic intubation, regional anaesthesia, line insertion.
A Management Module available for ST trainees.
The highly regarded Primary FRCA OSCE exam course is also based here
The department were the 2015 Winners of the prestigious South Yorkshire Regional Teaching Trophy
What the trainees said (2015 HEYH Annual Survey)
"Hands on practice regularly available and supportive consultant team. Plentiful feedback"
"Excellent support from senior colleagues. All staff approachable"
NORTHERN GENERAL HOSPITAL
LOCATION
Herries Rd, Sheffield, S5 7AU
0114 2734343
ABOUT
This is the largest of the South Yorkshire hospitals and is one of the three Yorkshire Major Trauma Centres. It provides secondary and tertiary care to probably a million people in Sheffield and the surrounding areas. It is an adult only hospital - Children being seen in the Sheffield Childrens Hospital
NGH has  over 1100 beds in a large site in the north of the city. The hospital provides Colorectal, Upper GI, Renal, Plastic, Orthopaedic, Dental, Cardiac, Vascular, Trauma, Transplant and day surgical services. There are over 100 consultants anaesthetists working for Sheffield Teaching hospitals - many working cross site.
Several top consultant anaesthetists are seconded to work on the Yorkshire Critical Care Team - flying to major trauma throughout yorkshire in the Yorkshire air ambulance
INTENSIVE CARE
A state of the art 36 bedded critical care department that contains ITU, HDU and a post operative surgical unit (POSU).
OBSTETRIC
(nil - provided at Royal Hallamshire)
TRAINING OPPORTUNITIES
We have 17 main theatres in the main complex along with 3 day surgery theatres, 5 Cardiothoracic theatres in a separate unit and a stand alone spinal injuries theatre. 
Training opportunities exist providing Anaesthesia for
cardiothoracic
colorectal & upper GI
vascular
major trauma
orthopaedics (primary and revision: limb, spines)
plastic and burns surgery
spinal injuries.
vascular Angiography
transplant
Ample opportunity exists to practice emergency anaesthesia as there are typically 2 emergency theatres and 2 trauma theatres running simultaneously in daytime hours
A lot of work is performed under regional anaesthesia and we have a number of skilled operators in the use of ultrasound for this. 
There is a weekly journal club and block club (regional anesthesia). There is also an excellent monthly regional registrar teaching program – ST Anaesthetic Regional Teaching (START)
ADVANCED MODULES
A number of advanced modules (available on application) have recently been introduced
Regional Anaesthesia
Vascular Anaesthesia
Cardiothoracic anaesthesia
Major Trauma and Orthopaedics
ICM
Pain
Peri-operative medicine
General, Uro, Gynae – with time spent at the hallamshire
Transfer medicine being developed currently by Dr Chris Press
College Tutor: Dr Phil Bonnett
Deputy College Tutor: Dr Ben Edwards
What the trainees liked (2015 HEYH Survey)
"Breadth of work. Some inspirational colleagues"
"Ample opportunity for regional blocks and a good mix of cases including trauma"
"Excellent training opportunities during clinical work"
"Experience in managing complex and sick patients"
"Support from seniors"
"I felt well supported in capitalising upon learning opportunities. Equally I was allowed to take responsibility commensurate with my level of training"
"All the consultants I meet are kind and enthusiastic teachers. It is a friendly working environment despite being massive"
"Variety of cases. Excellent consultant support both in attached lists and on-call"
ROTHERHAM GENERAL HOSPITAL
LOCATION
The hospital is 10 miles north of the Sheffield Teaching Hospitals base and is an easy 20 run up the Parkway dual carriageway
Rotherham General Hospital, Moorgate Rd, Rotherham S60 2UD
01709 820000
ABOUT
Rotherham General Hospital is a modern, progressive district hospital with around 500 beds , situated two miles south of Rotherham town centre. The hospital serves a population of around 220,000 people and has associate teaching hospital status. It is a Trauma Unit.
The anaesthetic department consists of 23 consultants.
INTENSIVE CARE UNIT
There are 14 critical care beds (HDU/ITU) which are used flexibly
OBSTETRIC
The obstetric unit sees 2700 deliveries per year -  there is ample opportunity to learn obstetric anaesthesia
TEACHING and TRAINING
The department is well known for its commitment to training and is a popular choice for trainees to be attached to. There is a well-equipped Medical Education Centre, which is comprised of tutorial rooms and a lecture theatre. There is also a high fidelity Simulation Suite
There is a well run weekly teaching programme 
The department is the current holder of the prestigious South Yorkshire Anaesthetic Regional Teaching Trophy
ADVANCED MODULES
There is an opportunity (on application) to do an "Advanced Module in Daycase Anaesthesia " in the ST7 year
College Tutor: Dr Mario Shekar
What the trainees say (HEYH Annual Survey 2015)
"Supportive environment. Consultants keen to teach and provide support when needed. I really enjoy working at Rotherham"
"Solo lists. Good support from consultants"
"Good team working ethos. Well supported by senior clinicians. Good case mix and workload of interesting cases"
"Well supported, friendly helpful learning environment"
"Overall friendly and supportive environment"
"Friendly department, plenty of learning opportunities"
"Friendly department. Good case mix. Always being released for teaching"
A major teaching hospital based around a tower block of 850 beds and a large outpatients department. It houses many of the Sheffield University Medical School's academic departments.
The Department of Pain Management includes both the acute pain service for the Hallamshire hospital and chronic pain services for central Sheffield. There is a large investigative radiology department with MRI and CT services
Sheffield Childrens Hospital
Jessop WingWomens Hospital
Weston Park Hospital (Oncology) and Charles Clifford Dental Hospital