Anaesthesia
The School of Anaesthesia is responsible for the delivery of training in Anaesthesia in West, South, North/East Yorkshire and North Lincolnshire.
Yorkshire and the Humber is a large region with a population of approximately 5 million and incorporates 21 major hospitals. There are three locality programmes within the School, based around the Tertiary Centres namely East (Hull), West (Leeds) and South (Sheffield). Each programme provides training in all areas of the curriculum, has well organised teaching and enviable exam pass rates.
Recruitment to Core Training (CT) and Specialist Training (ST) is a national process, information about which can be found on the Specialty Recruitment site. Timescales, vacancies, person specifications and 'how to apply' can all be found here. More information about recruitment arrangements can be found by contacting the Training Programme Directors from each region.
***************************
January Primary VYVA Course
FACULTY NEEDED (Consultant or Post-Primary trainees)
Tuesday 3, Thursday 5, Monday 9, Wednesday 11, Monday 16 & Wednesday 18 January 2023
 
Anyone from consultant to post-primary FRCA trainee can be an examiner. It runs online on Blackboard, and we can set up access if you haven't used it before. 

Participation certificates will be given at the end of the course and will provide good evidence for the Education and Training domain on LLP. 

In the past, Final FRCA candidates have found it useful as part of their exam preparation

A half day session from 09:00am to 12pm, bi-weekly for 3 weeks

sign up for specific days via the link and QR code on the flyer below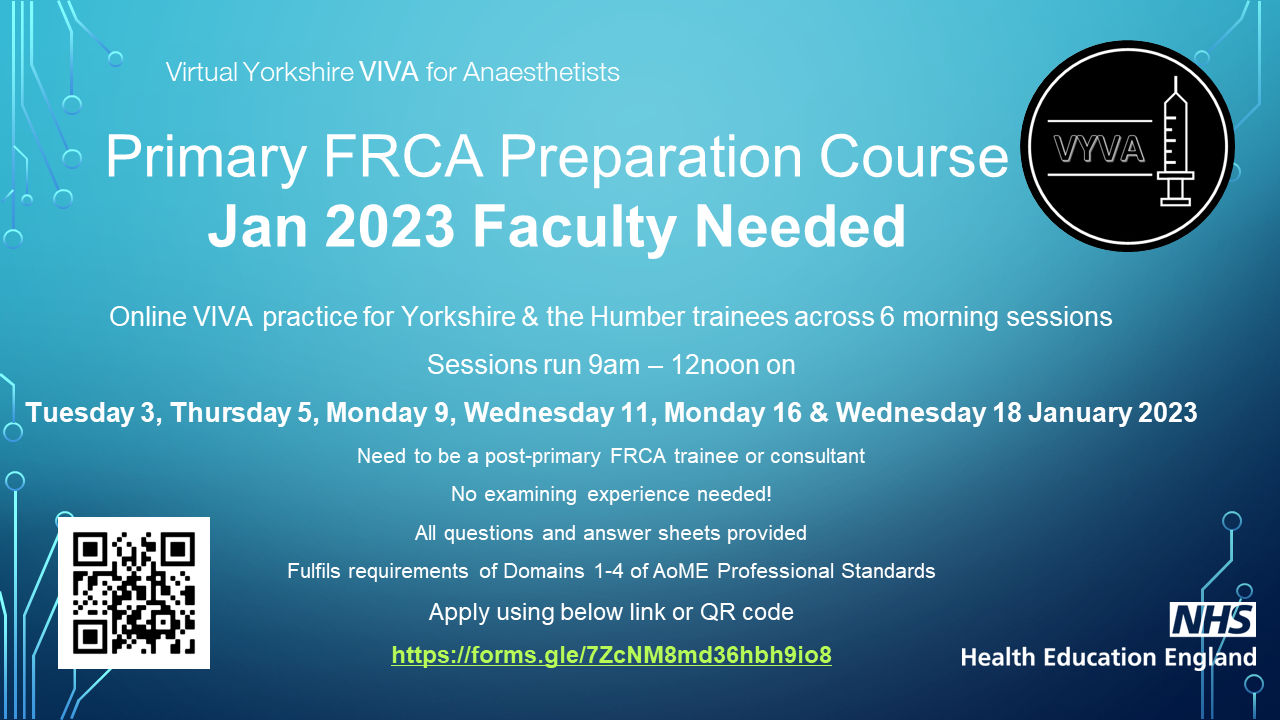 Using this website
The main sub-sections of information are available through the five boxes above, or through the clickable Anaesthesia Menu at the top of the page.
The video below offers a brief guide to navigating the site.
The most commonly accessed content is in the Document Library and QUICKLINKS 
To report a broken link or inaccurate information click HERE