Reviews and Appeals
As part of your Training Programme, you will be engaged in the ARCP process. You may find yourself in a situation where you may disagree with the outcome that was given, or perhaps that there are mitigating circumstances that haven't been considered, and you wish to appeal the decision. 
Reviews and appeals are organised in accordance with the relevant guidance for your specialty – Medical Gold Guide, Dental Gold Guide, Dental Blue Guide and follow the HEE YH ARCP Reviews and Appeals Guidance.
The process normally consists of two stages:
                Review: The original ARCP panel revisit the outcome, this is generally conducted remotely and trainees do not attend (available for outcomes 2, 3, or 4)
                Appeal: A new, independent panel is convened in a formal setting. Trainees are expected to attend (available for outcomes 3, or 4)
Before you submit a request to appeal, consider if this is necessary. Issues can often be resolved outside of the appeals process by speaking with your Training Programme Director or Programme Support Team. It may be helpful to discuss the outcome with your TPD and/or Educational Supervisor which can clarify why the outcome was issued and help guide you to achieve the objectives.  If you do still wish to appeal then you do have this right.
Foundation trainees: FY1 doctors in receipt of an outcome 4 who have graduated from a UK-based Medical School/University and wish to appeal the outcome, should submit their appeal request to HEE YH who will liaise with the Medical School/University accordingly. The Medical School/University will normally conduct the appeal process (in accordance with GMC policy [Foundation Reference Guide 4.118]). FY1 non-UK graduates and all FY2 trainees should follow the HEE YH appeal process as detailed on this page.
How to appeal the ARCP outcome:
Following your ARCP you will need to complete the Trainee's Statement of ARCP Review/Appeal form and submit this to the relevant Deputy Dean within 10 working days from the date of your ARCP outcome letter. This letter will include the required details and the deadline by which your request to appeal should be received.
The review and appeal process: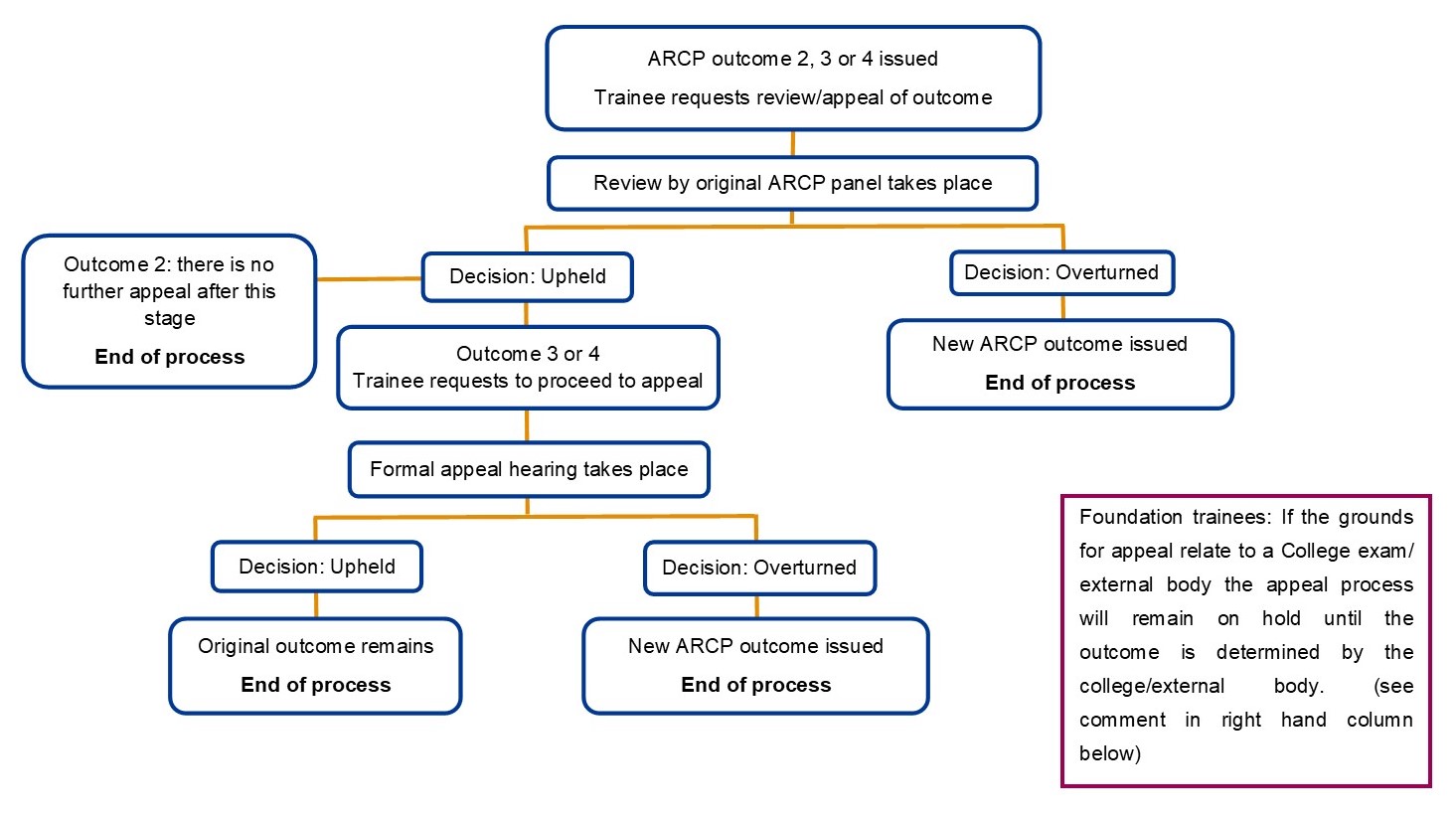 If you have been exited from the training programme (outcome 4) it is understandably a difficult time as you may have queries about your employment. It is advisable to speak with Medical Staffing in your employing Trust early in the appeal process so that you get useful advice to support you.
There are many support mechanisms available, such as career advice, counselling and coaching. Full details are available on the HEE YH website, specific links are provided in the Support Resources section below.