Vision statement
Our core value is to benefit children in the region by providing excellent training opportunities for future paediatricians, many of whom will stay within the region. We take pride in our high quality training that ensures our CCT holders have the knowledge and people skills required to work as effective Paediatricians.
We aim to work collaboratively with all training units to create a holistic training environment that allows for optimal learning and takes the needs of adult learners into account.
The paediatric trainee is at the heart of our efforts and we aim to provide an excellent learning environment, taking personal requirements into account, as this results in happier and better trained doctors.
School of Paediatrics Newsletter March 2020
       Do you have news to share? Contact the School of Paediatrics website                                  
                                                                                                                                               September Newsletter  October Newsletter  November Newsletter  December Newsletter
                                                                                                                                               January Newsletter  February Newsletter      
Welcome to the HEYH School of Paediatics newsletter. Please contact the team if you have news to share or want to contribute. 
The Newsletter will be updated on a monthly basis and aims to highlight news and events from across the region and country.    
---
Why Paediatrics, Why Yorkshire?    
New presentation coming soon showing the great reasons to do paediatric training in Yorkshire!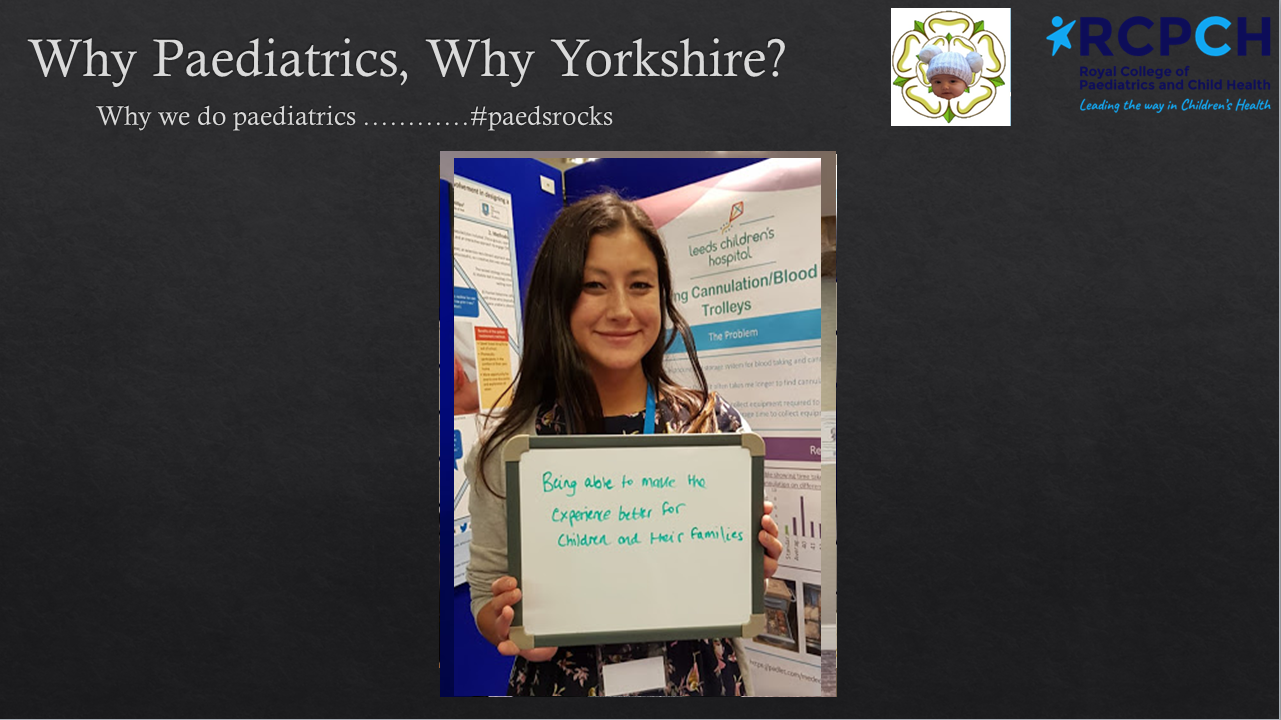 ---
Feedback
The School of Paediatrics wants to improve the feed back given to trainees. Following the GMC survey, feedback was the area scored highest by paediatric trainees in HEYH.
We want to improve this and are enocuraging trainers across the region to focus on this practice over the next year.
Trainees in Leeds/Hull have investigated this locally and suggestions for change were:
1. Trainees would like more feedback after ward rounds or clinics
2. Feedback made trainees feel valued and gave them a guide to know how they are doing
3. Regular time for feedback- consider drop in sessions.
---
RCPCH Trainee Paediatric Research Network
Are you a paediatric trainee passionate about research, or looking to get involved? Join our Task and Finish Group to set up a Trainee Paediatric Research Network!
To support trainees to undertake research, the RCPCH is convening a Task and Finish Group to lead on developing an overarching Trainee Paediatric Research Network. This network will aim to bring together existing regional paediatric research networks across the UK to:
         Increase opportunities for trainees to conduct research
         Provide peer support and guidance
         Support trainees to develop research skills
         Allow conception and coordination of pan-UK projects
The Task and Finish Group is open to applications from paediatric trainees who are keen to help develop this network.
Applications to the Task and Finish Group close on Monday 16 March 2020, 09:30.
For further information and to apply, visit: www.rcpch.ac.uk/trainee-research-network.
---
ARCP
Due to Covid-19 ARCPs will be disrupted. Face to face ARCPs will now happen remotely.
Priority will be given for essential ARCP (Anticipated outcome 6s. 
There will be flexibility with the requirements, but an ES report will be particulary important.
This may be updated as the situation changes.
Please visit the ARCP page for updated 2020 ARCP checklists.
The most significant change is the addition of SCRIPT modules to the level 1 checklist
---
All Paediatric TPDs can be contacted for questions and advice regarding training.
TPD Clinics are being held across the region. Click on the link for more information.
---
---
Upcoming Events
May events are being cancelled so please bear this in mind.