Vision statement
Our core value is to benefit children in the region by providing excellent training opportunities for future paediatricians, many of whom will stay within the region. We take pride in our high quality training that ensures our CCT holders have the knowledge and people skills required to work as effective Paediatricians.
We aim to work collaboratively with all training units to create a holistic training environment that allows for optimal learning and takes the needs of adult learners into account.
The paediatric trainee is at the heart of our efforts and we aim to provide an excellent learning environment, taking personal requirements into account, as this results in happier and better trained doctors.
School of Paediatrics Newsletter November 2020
                                                                                                                                                                     April Newsletter  June Newsletter  July Newsletter
                                                                                                                                                                     August Newsletter  September Newsletter   October Newsletter
Welcome to the HEYH School of Paediatics newsletter. Please contact the team if you have news to share or want to contribute. 
The Newsletter will be updated on a monthly basis and aims to highlight news and events from across the region and country.    
---
Wellbeing conference 30th Nov 2020
Free wellbeing conference Mon 30th Nov covering wellbeing, self care, sleep and yoga. https://www.eventbrite.co.uk/e/wellbeing-in-the-face-of-covid-19-tickets-127497661939
---
Voting is open until 9th December.
Candidates include Dr Simon Clark for the President role and Dr Jonathan Darling for the Registar role. Both are experienced consultants in Yorkshire who many of you will have worked with.
Please look at the candidate statements and make sure you vote.
---
Trainee Rep Meeting Outcomes
---
British Academy of Child Disability- 16th December
The BACD trainees' annual meeting is being held virtually on Wednesday 16th December and the theme of the day is Managing co-morbidities in disability and ensuring services meet needs. The meeting is aimed at all trainees with an interest in managing children with disability and is highly relevant to aspects across the neurodisability, community child health and general paediatric curriculums, as well as day-to-day practice. For trainees, there will be the opportunity for a 1:1 meeting with the neurodisability CSAC to discuss any training issues and career advice, as well as  6 months free BACD membership included for any trainee who is not yet a member. Please see attached flyer for more details.
More information, and booking for the day, is available at https://www.bacdis.org.uk/events/107-bacd-trainees-meeting
---
Yorkshire Respiratory Day 22nd January 2021
More details including timetable and application process are to follow. Due to the ongoing global pandemic the Day will take place virtually. The event will again be free to attend and open to all Paediatric Trainees, Consultants and Allied Healthcare Professionals with a particular Interest in Respiratory Paediatrics.
We are also looking for any trainees who have any interesting or thought provoking cases from the world of Respiratory Paediatrics that they would like to present. Please email yorkshirerespiratorypaeds@gmail.com with a brief summary if you are interested in this.
---
PRETT-Y (Paediatric Regional Endocrinology Teaching and Training - Yorkshire)- 26th January
The next PRETT-Y (Paediatric Regional Endocrinology Teaching and Training - Yorkshire) day will be held virtually on Tuesday 26th January 2020. The topic with be 'Challenging Cases for the Paediatric Endocrinologist' To register your interest and for a programme, please email elspethferguson@nhs.net
---
Shortlisted applicants are required to give a presentation that can be an audit, a case series, case presentation or research project that has been conducted whilst working in the Yorkshire and Humber Deanery. The prize evening is open to all trainees in all schools.    The 1st prize award is £200 with four runners up prizes of £50 each.     Depending on restrictions at the time the meeting will held in the beautiful Grade II listed society rooms in Stonegate, York or by Zoom on the 5th March 2021. (http://www.yorkmedsoc.org)
The deadline for submission is 29th January 2021. Only one application per candidate will be accepted. Candidates do not have to be members of York Medical Society to apply.
---
Online Courses
Safeguarding level 3- can be accessed at ALSG- https://www.alsg.org/rcpchsc/login/index.php#
You need to create an account to log in. Then click on CPRR for Bradford Teaching hospital. You will need a code which can be obtained from Vicky Williamson Vicky.Williamson@bthft.nhs.uk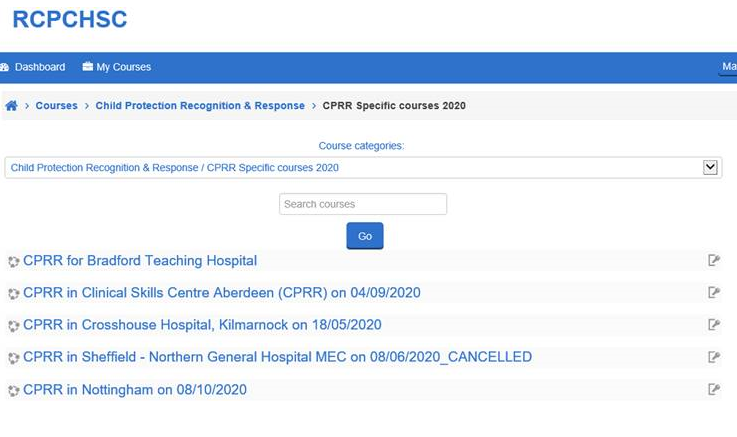 ALSG free online resources including APLS E-book and PLS E-module- https://www.alsg.org/home/course/view.php?id=358
Human Factors- https://www.alsg.org/home/course/view.php?id=101
---
Upcoming Events
May events are being cancelled so please bear this in mind.