Social Support and Integration
Getting to know Yorkshire and Humber
As part of your acclimatisation to working and living in the UK, we would encourage you to get to know our region in your leisure time. Yorkshire and Humber are home to some wonderful beauty spots, including a vast array of reservoirs, walking and hiking routes. We are also lucky to have four large, thriving cities (Hull, Leeds, Sheffield and York), as well as many charming small towns and villages. We hope that you can make the best of working in the region.
You may find the following websites to help you familiarise yourself with leisure activities in the region:
---
Yorkshire and Humber Social Prescribing Service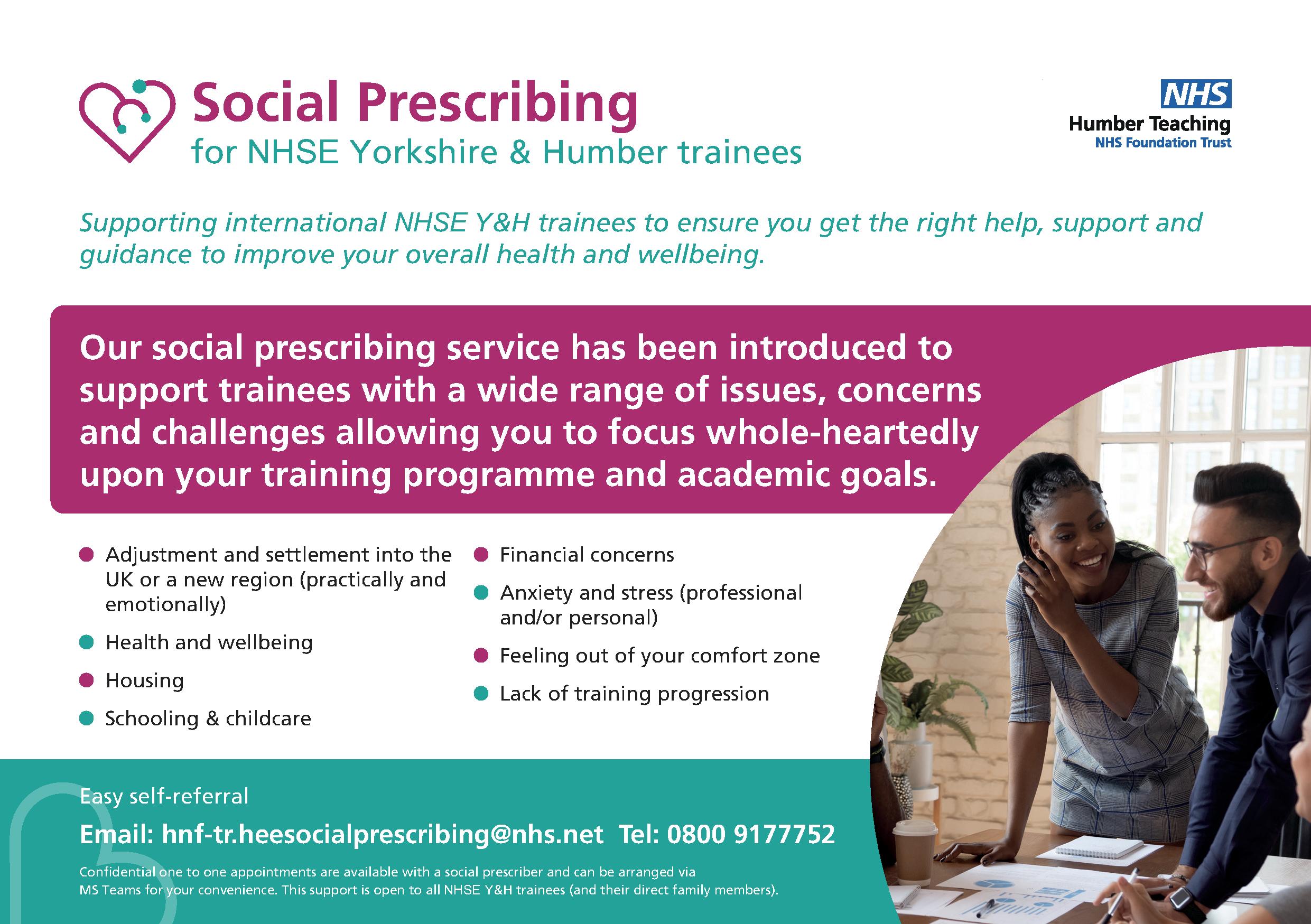 We have a dedicated service run by Humber Teaching NHS Foundation Trust to help support your move to the area of your training programme, wherever that happens to be throughout the Yorkshire and Humber region. We have social prescribers that can offer you guidance and help to lead you through the transition.
Our social prescribing service is tailored for medical and dental graduates who obtained their primary medical degree outside of the UK. It has been introduced to support doctors with a wide range of issues, concerns and challenges allowing you to focus whole-heartedly upon your training programme and academic goals. The social prescriber can support you with:
Adjustment and settlement into the UK or a new region (practically and emotionally
Financial concerns
Anxiety and stress (professional and/or personal)
Health and wellbeing
Feeling out of your comfort zone
Housing
Lack of training progression
Schooling & childcare 
Confidential one-to-one appointments are available with a social prescriber and can be arranged to take place via MS Teams for your convenience. This support is open to all postgraduate doctors in training (and their direct family members) within the Yorkshire & Humber.
You can self-refer to make an appointment with the social prescriber, using the following contact details:
Email: hnf-tr.heesocialprescribing@nhs.net 
Tel: +44 (0)800 9177752
---
Guidance from IMGs in Yorkshire and Humber
IMG Handbook
A handbook for Yorkshire and Humber IMGs, written by Yorkshire and Humber IMGs, it contains a wealth of information specific to our region, including securing accommodation, shopping, transport and much more.
IMG Podcast Series
One of our previous Future Leader Fellows for IMG Support developed a podcast series, which aimed to share the experiences of other IMG trainees and provide useful tips for your training journey. An overview of each episode and listening link can be found below:
| | |
| --- | --- |
| Introduction | A short introduction to the purpose of this podcast series |
| Episode One | GP trainee, Dr CJ covers tips for the portfolio and how to escalate to seniors as an IMG doctor |
| Episode Two | Dr Elyas, Paediatrics ST4 shares her journey into training and the challenges she faced |
| Episode Three | Dr Cristina shares her experiences of communication challenges at work and working less than full time |
| Episode Four | Dr Kike describes the challenges she faced with bringing her family to the UK as well as challenges with the visa process as an IMG doctor |
| Episode Five | Dr Mahwish shares experiences from her trust grade job, reverse mentoring, resilience and self-compassion as an IMG |
| Episode Six | Differential Attainment GP TPD, Dr Robert Amedzro, shares his views on the common challenges faced by IMG trainees |
| Episode Seven | EDI Lead and HR Manager, Mano Jamieson, discusses what HR teams can do to improve the IMG transition, recognising racism and how to respond to microaggressions |
| Episode Eight | Dr Tolu, a trust grade IMG doctor, shares her experience of adapting to working in the UK, overcoming communication difficulties and social isolation |
IMG Virtual Networking Sessions
In 2023, the Future Leader Fellow for IMG Support ran a pilot of virtual networking sessions to support new IMGs in the region. Guest speakers were invited to each session to encourage a variety of content. An overview and link to access the recording of each session can be found below:
| | |
| --- | --- |
| January 2023 | Welcome to the UK, training and top tips for starting in the NHS |
| March 2023 | General Medical Council, appraisals and portfolios |
| April 2023 | Responding to microaggressions and reaching out for support |
| June 2023 | A GP Associate Dean, an IMG trainee and an incoming leadership fellow share their journeys |
| July 2023 | Financial top tips, preventing burnout and welcoming new IMGs |
---
Language Support
Dictionary of British Slang
This dictionary of British slang includes popular words and phrases that you might hear in the UK and will help you with your own spoken English.
Doctors Speak Up
Doctors Speak Up is a multimedia resource that has been developed to address the language and communication needs of International Medical Graduates (IMGs) working in Australia. Although some of the content is specific to Australia, most of it is useful for anyone practicing medicine in an English speaking country.