HEE Yorkshire and the Humber- Oral and Maxillofacial Surgery, Pinderfields General Hospital, Wakefield
As an Oral and Maxillofacial DCT at Pinderfields Hospital, you will:
Be well supported by a caring and experienced team of three Consultants in Oral & Maxillofacial Surgery, Specialists in Oral Surgery and Specialty Dentists in OMFS.
Develop your ability to work in an unfamiliar and unpredictable environment, which will improve your ability to make decisions and to communicate successfully under pressure. Pinderfields Hospital has the 8th busiest Emergency Department (ED) in England with a large number of patients attending with traumatic injuries and acute dental infections. You will work at weekends and overnight to provide 24/7 on-call cover for the department within a 1:7 rotation. Your experiences will bring important and valuable perspectives to your future career in dentistry.
Take part in a thorough induction process which will prepare you for your new role.
Develop your surgical skills. There are ample opportunities to suture lacerations under local anaesthetic in the Emergency Department (ED) and to undertake dento-alveolar procedures involving flap raising/bone removal under local anaesthetic, sedation and general anaesthetic.
Learn how to diagnose and treat common Oral Medicine conditions on the outpatient consultant clinics.
Develop your understanding of the diagnosis and treatment of oral cancer by participating in the outpatient oncology clinics with the visiting Maxillofacial Oncology Consultant. Pinderfields does not have major head and neck cancer inpatients. Surgery for these patients is undertaken at Leeds General Infirmary.
Gain confidence in providing independent care for patients under general anaesthetic.
Work in a department alongside four Consultants in Orthodontics who provide complex orthodontic treatment with interests in dento-facial deformity, developmental anomalies (Joint Restorative and Paediatric dentistry), cleft lip and palate, joint oral surgery and dental sleep medicine. The department also has close collaborations with consultant led Community dentistry in Wakefield. As an OMFS DCT you will not directly provide orthodontic care for patients, but you will have the opportunities to observe.
Be encouraged and have the opportunity to undertake and publish audits, case reports and research as well as take part in monthly clinical governance meetings where there are opportunities to present.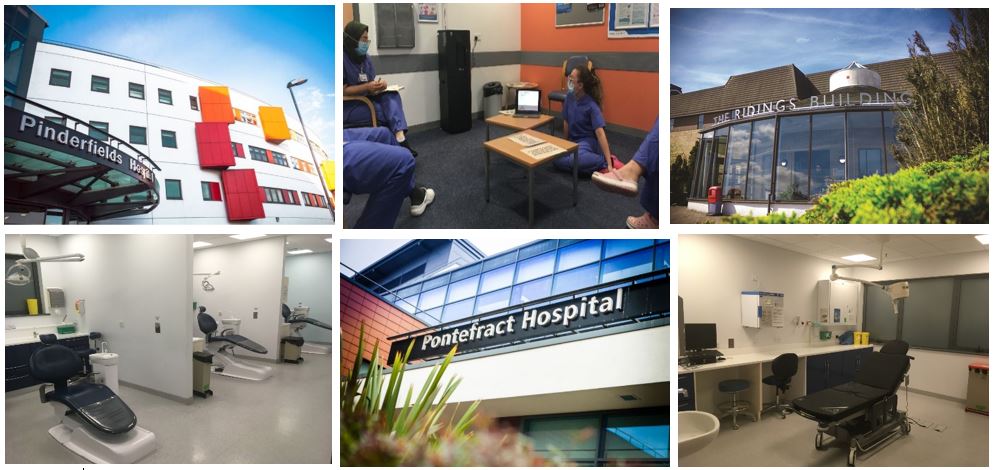 Designed by P Radford DCT2 2020/21