FLP Conference 2017.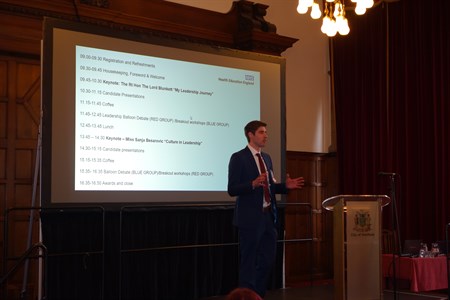 The Future Leaders Programme Conference took place on Monday 27th March 2017 at Sheffield Town Hall. A culmination of 6 months hard work from the committee resulted in an inspiring day attended by around 150 delegates.
Keynote speeches were given by The Rt Hon Lord David Blunkett and Miss Sanja Besarovic. Both captivated the room with their inspiring stories and wealth of experience. Many delegates commented that the speakers were "moving" and "powerful".
Delegates were split for a morning and afternoon session to attend either "The Balloon Debate" or one of the 4 workshops on offer. In the balloon debate leadership styles were debated with various techniques used to persuade us of the winner; some unforgettable arguments given! A wide variety of workshops were held from health coaching, to medical improv, to leading collaboratively, to human factors! Drs Tim Williams, Waqar Ahmed, Jean Hardacre and Chantelle Mann provided delegates with thought provoking, interactive sessions that received much positive feedback.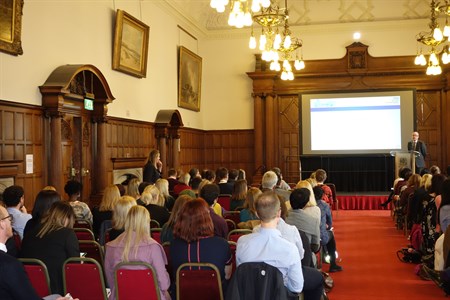 The Future Leaders Programme Fellows were also offered the chance to showcase their work. 48 posters were accepted and displayed in the networking areas. The 4 best abstracts were selected give oral presentations; Rob Eastham, Anna Greenwood, Khurram Mustafa and Amanda Newnham all gave fantastic accounts of their work and engaged the audience's interest. Congratulations to Anna Greenwood and Lizzie Hutchinson who won the prizes for best oral and poster presentations!
Feedback from the conference was overwhelmingly positive with over 90% of those completing the survey rating the conference as "Good" or "Excellent". Whilst there are improvements that can be made for next year the Future Leaders Programme Conference 2017 was, on the whole, a resounding success. With thanks to all the committee and HEE staff who helped to organise the day. Particular thanks go to Elaine Hoare, Lucy Hathaway and Trudi Phillips.