Courses
We encourage all trainees to supplement their training with appropriate study leave and other CPD events both clinical and non-clinical. All of the units run an internal educational program including CPCs, x-ray conferences, journal clubs etc and you will get more details from each unit. You will also have access to library and on-line facilities as well as a number of e-learning resources.
Study Leave
Study Leave is authorised on an individual basis. There are a number of 'Deanery Approved Courses' where funding is provided. These are listed below. You should discuss the courses with your educational supervisor and of course aim to spread these out throughout your training.
Courses outside this list are judged on an individual basis, but are unlikely to be remunerated by the Deanery.
The Northern Postgraduate Nephrology Course is a well-established bi-monthly full day teaching programme that covers the entire renal curriculum. Coordinated by Drs Garthwaite, Hoefield and Roberts, the programme attracts both local and national speakers.
The course is funded by the Deanery, and attracts universally high quality feedback, as well as RCP CPD points.
This course is free to all trainees in the region. There is an expectation that trainees are released to attend. Likewise you should also attend the Royal College of physicians G(I)M study days which take place at similar frequency and are advertised by the Deanery.
Previous topics have included:
Management of electrolyte disturbances

Polycystic Kidney Disease

Research

Peritoneal Dialysis

Renal disease in pregnancy
Please check the Renal Medicine - Yorkshire & the Humber NHS network for details on upcoming NPNC training dates.
If interested in attending please contact your local TPD for more information.
UK Advanced Nephrology Course*

Transplant Course*

Dialysis Course*

Histology Course*

National Conference (BRS/RA/BTS/UKKW)

International conference - if presenting
*generally funded once within training programme
UCL Applied Renal Physiology 

UCL Renal Dialysis

UCL Renal Transplantation 

UCL Infectious and Global Nephrology 

Imperial Renal Pathology for the Nephrologist 

Preston Applied Clinical Nephrology Course 

Preston Renal Biopsy Course 

Preston Peritoneal Dialysis Catheter Insertion Course

 
Health Education England Yorkshire and the Humber offer a wide range of free courses for trainees in Yorkshire and the Humber to support personal and professional development. Further information can be found below including recommended courses for different stages of training.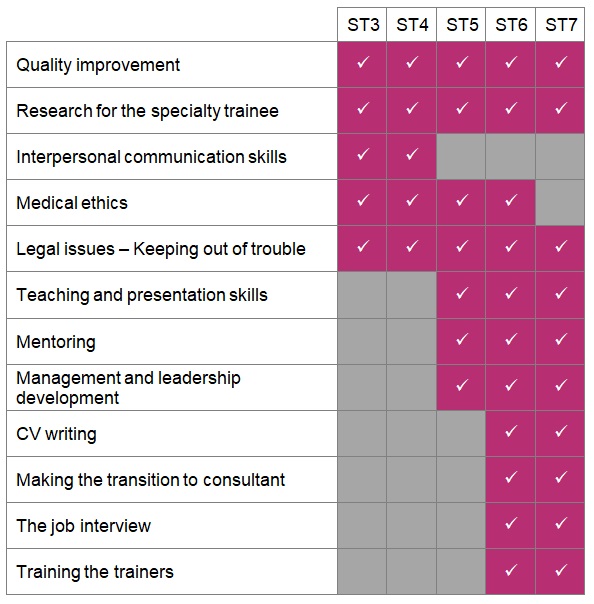 For more information on generic skills courses please click here
To apply for the courses on MaxCourse please click here.
An annual simulation training day covering dialysis related emergencies, communication skills and other areas.
Please contact Nicola Chapman for further details (Nicola.Chapman@bthft.nhs.uk)