DFT Recruitment.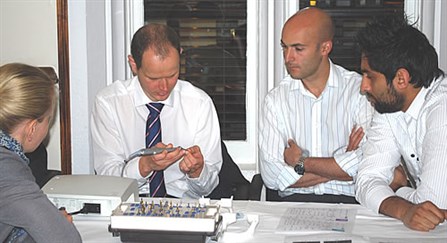 Recruitment for Dental Foundation training is via a National Recruitment process. In Health Education England working across the Yorkshire and Humber region, trainees are based in NHS general dental practices working with dental practitioners who are experienced Foundation Trainers. There are currently 8 schemes within the Yorkshire and Humber region and these are divided up between:
Area 1 - North Yorkshire and Humber 
Area 2 - West Yorkshire 
Area 3 - South Yorkshire & Bassetlaw 
**Please note** – there may be some overlap between areas eg. A practice in Huddersfield (Area 2) may be placed in Area 3 due to availability of practices.
 All trainees must sign an agreement at the beginning of each placement and keep an accurate and regular portfolio of their work. They must also attend the 30 day study programme, work full time in practice and attend weekly tutorials with their trainer.
Once appointed, you will be allocated to a local scheme. Details on the schemes are available here. 
 
Joint Dental Foundation and Core Training (JDFCT Scheme)
The JDFCT scheme is a two year scheme alternating between practice and secondary care and covers all areas of Yorkshire and the Humber.
Placements for these positions are distributed across Yorkshire and the Humber, with training spread across primary and secondary care, over two years. By the end of your training you have the opportunity to gain both DFT and DCT1 completion. 
Further details on the scheme are available here
Application process
Application forms are available on the national recruitment portal.
Please note that the vacancies advertised may be subject to change prior to interview.
Eligibility 
Before applying please ensure you read the Dental Foundation Training - National Applicant Guide and the Person Specification to assess your suitability. There are also guides available in the resource bank of the national recruitment portal to assist you with completing your application.
To be considered for longlisting you must complete the relevant online application form. No other documentation will be accepted at the application stage.
Late applications will not be considered.
After Appointment
Information on what to do once you have been appointed, is available here.