Restorative Dentistry.
Restorative Dentistry is the study, diagnosis and integrated effective management of diseases of the oral cavity, the teeth and supporting structures. This includes the rehabilitation of the teeth and the oral cavity to functional, psychological and aesthetic requirements of the patient. It may require the coordination of multi-professional working to achieve these objectives. The discipline encompasses all aspects of Periodontics, Endodontics, Fixed and Removable Prosthodontics (including Maxillofacial Prosthodontics) and Implant Dentistry (from ACSRD website).
Training Programme Directors
Ms Hannah Beddis (North)
Mr Abdulrahman Elmougy (South)
ARCP 
The 5 year full time training programme in Restorative Dentistry is focused on producing high quality clinical training supported by the best available evidence. There is a strong emphasis on stepwise training and close clinical supervision by enthusiastic and committed consultant trainers of the highest caliber.
Further information about the Restorative Dentistry Curriculum, training and exams may be gained from :
The Intercollegiate Surgical Curriculum Programme Website
This site houses the curriculum for the dental specialties and, in a secure area, trainees' electronic portfolios and the learning agreements which support training.
All trainees will use the e-portfolio. Consultants and other professionals who will be training, assessing and supervising training will also need to register. 
This is an important component of the restorative dentistry curriculum and all StRs are expected to carry out a research project as part of their training. All StRs are expected to publish clinical and research papers in peer reviewed journals. StRs are also supported to present their research and clinical work at regional, national and international conferences.
Testimonials from past/ present trainees:
"I have found training in Sheffield to be very well structured, with fair allocation of time for clinical, research and educational activities. As a centre with thirteen consultants and six trainees in Restorative Dentistry there is a breadth of experience and interest to draw upon, and with opportunities to train at District General and Teaching Hospital departments we have the opportunity to gain more variety in our training. I believe that the experiences offered throughout training in all aspects of Restorative Dentistry at Sheffield offer opportunities to cement basic skills and build on these in a mentored and supported environment."
Zaid Ali, StR in Restorative Dentistry, Charles Clifford Dental Hospital, Sheffield.
"The Restorative Dentistry Department in Sheffield is very welcoming of new StR trainees. I was quickly made to feel one of an inclusive and enthusiastic team where the Consultant trainers take an active role. Their open door approach really supports my clinical and academic development. There is an excellent range of supervised treatment and consultation clinics, teaching sessions and multi-disciplinary clinics. The modern facilities and collegiality of the other Registrars also makes Sheffield a greeat place to be a trainee."
Anna Maxwell, StR in Restorative Dentistry, Charles Clifford Dental Hospital, Sheffield.
"The Restorative Specialty Training Programme is extremely well supported by Consultants; who are enthusiastic and readily available for advice, support, supervision and assessment. We have a good number of treatment sessions per week, and timetable rotation provides exposure to a wide range of cases and new patient clinics. The range of Consultants and clinics provides experience and training in all Restorative subspecialties."
Hannah P Beddis, StR in Restorative Dentistry, Leeds Dental Institute, Leeds.
"Spr training in Restorative dentistry at Leeds is well structured and of a very high standard. All the consultant trainers are enthusiastic, supportive, take an active role in providing training and have an open door policy. Modern training facilities and consultant supervised sessions give trainees opportunity to work closely with the trainers, to enhance both knowledge and skills in all aspects of restorative dentistry. The department has a great atmosphere and team spirit. It is a fantastic place to train and would I highly recommend it."
Mittal Patel, StR in Restorative Dentistry, Leeds Dental Institute, Leeds.
Top 10 things gained from the training programme (These are in no particular order.)
Learning from a group of Consultants who have a diverse range of interests and experiences
Access to a variety of teaching opportunities with regular time set aside to focus on learning
Broad referral area covering a diverse group of patients and therefore opportunities to treat patients with a variety of clinical presentations and needs
The support and camaraderie of being part of a group of registrars
Access to modern facilities
The enthusiasm and accessibility of the Consultants
Opportunity to be involved in research including the opportunity to gain a research degree
Care and support from Consultants who consider trainees' individual needs
Opportunities to be involved in teaching for undergraduate students and for general dental practitioners
Networking with registrars in other specialties
Unique experiences gained from working in Yorkshire and the Humber:
Rotation to a district general hospital to broaden experiences and appreciation of a different hospital environment
Attendance at multi professional clinics throughout the region (at all stages of training) 
The amenities of city living with easy access to the Peak District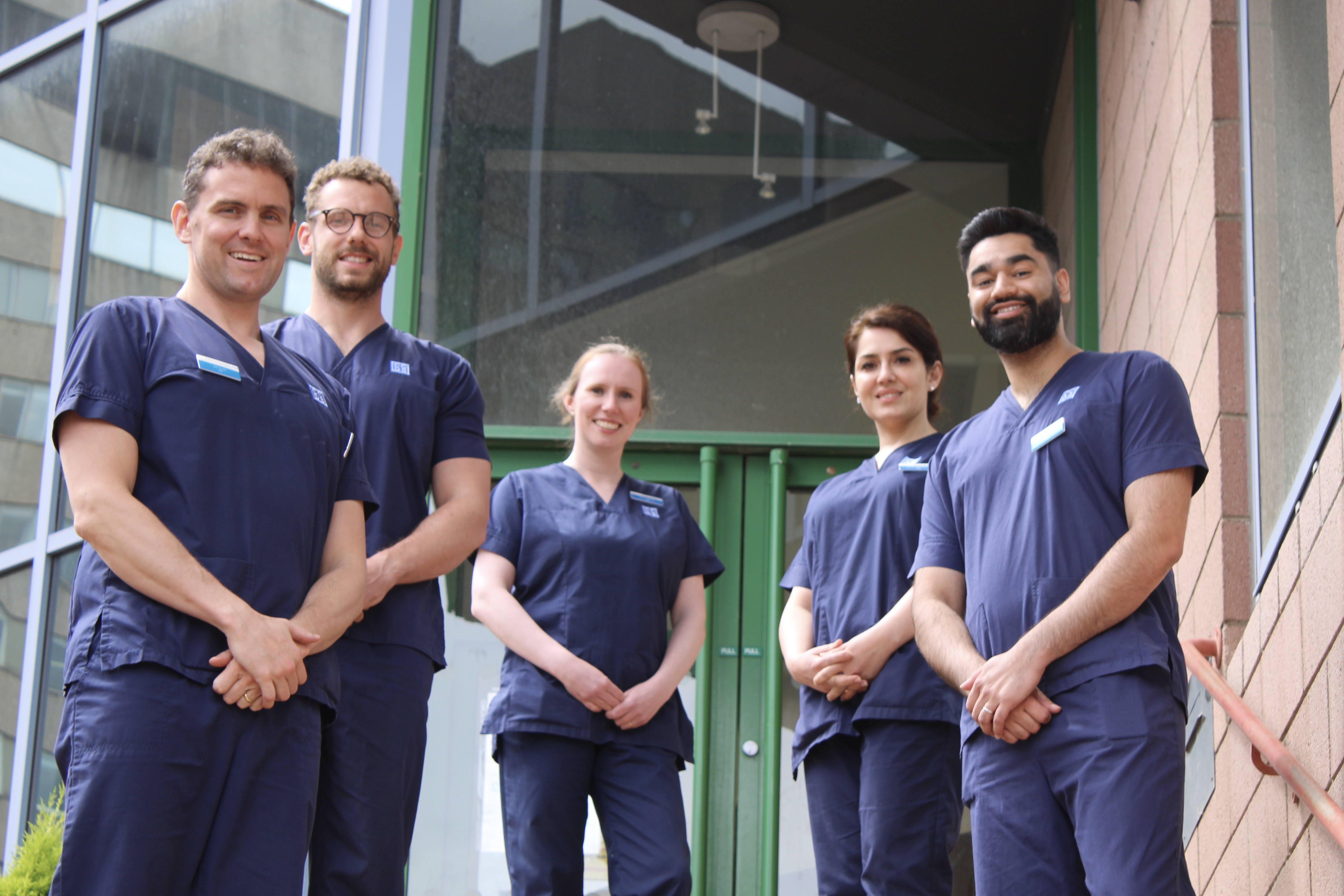 Designed by A Greer, Restorative Dentistry, ST5, 2021