First you will need your log in details for your ePortfolio which you can get from the RCOphth once you have your membership details.
You will be asked to select a role – Trainee or CPD.
If you select Trainee, you will see tabs at the top of the page – we recommend you update the "My Details" section – User details, exam results, Relationships (important to have up to date information here – current ES etc), placement details, timetables, leave records, qualifications, complaints/SUIs, prizes, Out of Programme activity and audit log.  Of course not all of these can be filled in at the start and will need to be populated and changed as your training progresses but it is useful to familiarise yourself with what is expected from you in this section.
Your Educational Supervisor (ES) will be allocated at the start of your placement.
You need to "choose" them on your ePortfolio for them to be able to get access to the portfolio to see how you are progressing "my details > relationships" section, as mentioned in getting started with your ePortfolio.
They will support you in setting your educational goals and seeing that you achieve the targets that have been set. They often also act as a mentor, an assessor and a source of help and career advice.
When should I meet my ES?
- At the start and end of every placement.  If you are staying in the same hospital for the year, the 6 month meeting can overlap the end of one placement and the start of the next.  You will need to meet your ES roughly a month before your ARCP so that your ePortolio can be reviewed to make sure all the relevant documents have been uploaded. 
What is a PDP and how do I create one on the ePortfolio?
A Personal Development Plan (PDP) outlines the goals and aims you want to achieve in the forthcoming placement.  You should meet with your ES within the first 2 – 3 weeks of each placement to set your PDP for the next 6 months. This meeting will take roughly 30 mins.
Educational goals should be SMART:
Specific: eg. Learn how to accurately measure intraocular pressure
Measurable: eg. Have this assessed as a CRS by 2 separate assessors
Realistic eg. You are not expected to laser a retinal hole within your first 6 months in the job!
Time-bound: Set a time within which you are likely to achieve your goal (e.g. by the end of the 6 month rotation).
Ophthalmic Specialist Training (OST) is outlined here but competencies which are needed to be completed in each training year can be found on your ePortfolio "Trainee role > Evidence > Progress per OST stage"  it is useful to know what is required of you in each year and reference these as learning goals in your PDP.
Once you have decided on a PDP you should upload it on your ePortfolio – Within the trainee role "My PDPs > Add"
TIP: good to label these in a structured way so it is easy for assessors to find the appropriate PDP e.g. PDP ST1 initial meeting
This is an active document and you can close each target as you achieve it. Doing so in this way is a good way to show evidence of how you are progressing. 
You will need to create a PDP at the start of each placement, so likely you will have 2 per year.
What is a ESR and how do I create one on the ePortfolio?
An Educational Supervisor Report (ESR) is a document completed via the ePortfolio that both you and your ES need to complete at the end of a placement.  The trainee will need to complete the first section, it is crucial all addition evidence is uploaded for the ES to review at your meeting (CSR, eyelogbook reports, MSF, reflections etc), they can then fill out the second section after reviewing all your additional evidence.
To send out a ESR "Trainee role > Evidence > Add/List Evidence > press Add button"
Type of Evidence – select ESR form.  If your stage of assessment and ES is already correct on your ePortfolio, the rest will self populate.  Create the form and start completing and uploading evidence.  Once you feel this section is complete you have the option to send to your ES or perform a dual sign off.  Your ES will complete the next section.
Once you and your ES have completed each of these parts – you need to reflect on the comments and write your response in the trainee comment section in the ESR and associate learning outcomes.
Each clinical or surgical placement you have will be assigned a Clinical Supervisors (CS), this consultant will likely work with you during this placement and is there to help you gain the most you can from the attachment.
It is good practice to meet with each of your CS before or at the start of the placement to find out about what the attachment entails, what is expected of you and what you should be getting out of the attachment educationally. The more advance preparation you do in terms of reading around the subject and anticipating what is expected of you, the more you will get out of the process.  To help get the most from each subspecialty attachment see our Subspecialty Learning Resources page.
It might also allow you to identify research or audit projects that could be completed during the placement. You will need to do several CBDs with your CS during the placement, which should be spread out during your time with them.
You will need some assessment of competency from every clinical attachment, usually a Clinical Supervisor's Report (CSR), but if your attachment is a surgical one, for example cataract surgery, then an Objective Structured Assessment of Technical Skill (OSATS) might be more appropriate than a CSR.
How do I complete a CSR?
A CSR will need to be completed towards the end of your attachment with your CS.  This is a document completed via your ePortfolio by your CS detailing what they feel you have gained and learned from the placement and your overall engagement and attitude. 
To send out a CSR "Trainee role > Evidence > Add/List Evidence > press Add button"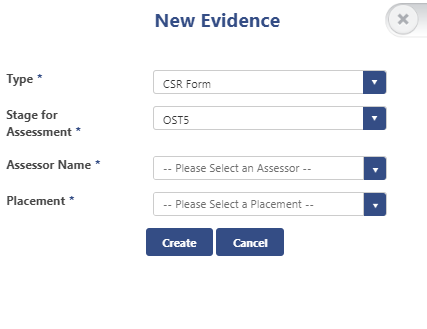 Select CSR form
     Select your stage of training
     Select your Assessors name/ Clinical supervisor
     Select the placement your CS is attached to (for this to display you need to make sure your placement information is up to             date in your "My Details" section
Once this is completed by your CS - the document will automatically transfer from the "Pending" section to the "Requires Action" section.  You will then be prompted to write a trainee comment and associate learning outcomes. 

Choose a case that you have been involved with, especially something that you have learnt from.
Sometimes your consultant may suggest a case that they feel might be particularly important.
TIPS: useful to have the clinical notes to refer to.  Read around the topic – use the CBD to widen your knowledge of the subject.
Set a time and place that is convenient to meet for both you and your consultant to discuss the case, roughly this will take 30mins of uninterrupted time.
Try and space your CBDs throughout the year.  Never do more than 2 on any 1 occasion. Make sure you cover the curriculum of your current placement as you may not have another opportunity to do that sub-speciality again.
Completing a CBD on the ePortfolio
To send out a CBD "Trainee role > Evidence > Add/List Evidence > press Add button"
     Select WpBA
     Select your stage of training
     Select your Assessor's name
     Select "Other" in Learning Outcomes
     Select CbD
Either complete your CBD with the Assessor there and then as a "dual sign off" or "submit" the CBD to them.  Make sure the suggestions for development and the action plan are filled in at the  end.
Again, once the CBD has been approved by your Assessor it will automatically transfer from the "Pending" section to the "Requires Action" section, and then you can associate learning outcomes. 
OSATS = objective structured assessment of technical skills
DOPS = Direct Observation of Procedural Skills
CRS = Clinical rating scale
EPA = Entrustable Professional Activity (for later years of training)
There are different requirements for each year again this can be viewed via your ePortfolio
"Trainee role > Evidence > Progress per OST Stage"
The idea of clinical assessments (CRS, OSATS, DOPS etc) is not to perfect them completely before you ask for assessment but rather to get assessment relatively early in the learning process, as you will learn a lot more that way and have areas to improve upon and practice before you have them assessed again. An assessment where you have not met the required standard should still be uploaded but is not a "failure" but an opportunity to learn and improve. Your assessor does not necessarily have to be a Consultant but does have to be someone completely competent at the task they are assessing for example senior trainees, nurse practitioners, orthoptists etc.
As for CBDs, the completed form should be either done together as a "dual sign off" or "submitted" for the assessor's approval. If your assessor is not on the approved list of College Assessors, you need to discuss this with your ES or the Training Programme Director (TPD).
Once the assessment has been approved by your assessor it will automatically transfer from the "Pending" section to the "Requires Action" section, and then you can associate learning outcomes and it will automatically register on your "Progress per OST Stage".  Your aim by the ARCP is to get your "Current Stage Progress" page all green, meaning you have completed the assessments required of you that year.
Tip: If you are being proactive and completing an assessment required for a future year of training make sure you link that assessment with the stage the assessment is required in your ePortfolio, not your current stage.
So if you are ST1 but have the opportunity to Assess Lacrimal Function (DOPS required for ST2), when you send out the assessment put OST2 in the stage for assessment (as below).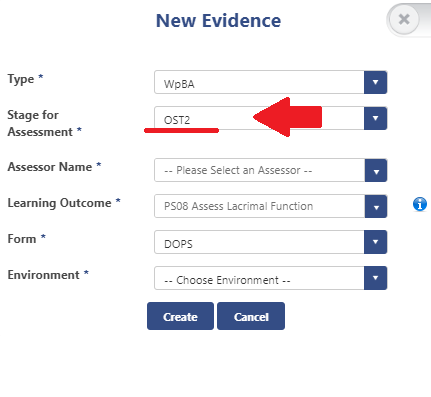 The Multi-source Feedback (MSF) allows your supervisors to get a feel of how you work within a multidisciplinary team.  
It is performed electronically via the online ePortfolio and one is required every year of training, the RCOphth state MSFs must be initiated at least 6-8 weeks in advance of the ARCP.
TIP: we recommend carrying out the MSF in Jan (if your ARCP is in Summer), this means it will be completed during the end of your first placement so your team can get to know you and if there are any issues they can be addressed well before the ARCP. 
Obtaining an MSF
The trainee identifies 11-15 people who can be approached to give feedback.  Where possible these people should work with you so they can comment on things like your interaction with patients and other colleagues.
The recommended combination of assessors, where applicable, should include:
2 consultant clinical supervisors
2 other trainees
1 senior nurse in the operating theatre (if the trainee has been performing surgery)
1 senior nurse in the out-patient department
1 other member of the out-patient staff (nurse/optometrist/orthoptist)
1 medical secretary who has been dealing with the trainee's work
The remaining contributors can include further consultant supervisors, trainees, allied health professionals (nurses, orthoptists, optometrists), clerical/secretarial/administrative staff and it may sometimes be appropriate to include those with specific roles such as the college tutor, programme director and rota organiser.
The trainee enters the details of these chosen assessors into the online e-Portfolio.
The list is approved online by the trainee's Educational Supervisor.
The staff on the trainee's list are contacted by email and asked to complete an online feedback form that will cover the appropriate areas of the curriculum. The trainee will not see individual responses.
The results of feedback are collated and a report is produced.
The MSF report is sent to the trainee's Educational Supervisor who arranges to meet with the trainee to discuss the contents and any action required.
All MSFs will close and generate a report either when all assessors have completed it or a month has elapsed, whichever occurs soonest.  MSFs cannot be closed early, regardless of the ARCP date.  A minimum of 11 responses are required to generate a valid report.
The General Medical Council make it clear in Good Medical Practice that reflection is the key to effective continuing professional development, and is a skill that must be developed and practised by all doctors. 
The portfolio can be used as a record of all your learning both formal and informal.
Reflections should be documented for: 
- Complaints/SUIs  
- Positive experiences 
Your supervisor may also want you to reflect on other Learning experience such as PGT, study day, meeting.  Reflections identify the learning points you have taken away from the experience and you should focus on what you have learnt.
NOTE: in rare circumstances the College would be required to disclose information held on ePortfolios to a third party, due to this ALL reflections must be fully anonymised.
The RCOPhth have referenced Guidance produced by the AoMRC to help doctors in training, and their supervisors, in considering how to record their reflective practice.  Full version of this can be found here.
Their advice on recording reflections on the ePortfolio is:
1. Keep reflective notes, as fully anonymised as possible. Other practitioners, patients, parents and staff should not be named or be readily identifiable from the information you provide. For example, instead of referring to patient Jane Smith, refer to them as patient X. Never include the patient ID number or name. Avoid including date of birth (if necessary refer to the patient's approximate age), addresses or any unique condition or circumstance of that patient which may allow someone to identify them when used in conjunction with other information they have access to. Occasionally it will be unavoidable as the condition of a particular patient will be unique, but try and minimise the patient identifiable information that you provide.
2. Word the reflective notes in terms of:
a. Brief Description: what are you reflecting on? Outline the circumstance in general terms. Ensure that you anonymise data. You can describe a situation without including identifiable data. For example use 'patient x' or 'Dr S' instead of names or patient numbers. a. Feelings: what were your reactions or feelings to the event in general? Try not to be judgemental, both to yourself and others, particularly when your reactions and feelings are still raw.
b. Evaluation: what was the outcome? What was good and could have been done differently about the event?
c. Analysis: what have you learnt? What steps will you now take on the basis of what you have learnt? – This is the most important section and will allow the other sections to be brief, generic and unidentifiable. This section will demonstrate both the learning outcome and reflection.
d. Take advice from a senior, experienced colleague when writing reflection about cases that may be contentious or result in an investigation
Most importantly, e-Portfolios is an educational tool and not a medical record. It is important that trainees and trainers continue to participate openly and meaningfully with the appraisal process by continuing to use e-Portfolios for genuine and detailed reflection that adds value to learning. However, this should be done without including patient identifiable or personal data. In the event you are referred to the GMC (a rare event, but more likely than a criminal prosecution), they will want to see evidence of refection. Good reflective learning will support you. Over emotional reflections, written in the heat of the moment should be avoided, as should criticism of others or discussion of personal differences. If you are unfortunate enough to be involved in an incident with a serious outcome, it is helpful to set out the narrative on paper immediately so that the events are recorded while still fresh in your mind , but formally documented reflection is probably better done after some consideration.
If you have any further questions your ES can help and guide you.
Where to record reflections
"CPD role > CPD > List all my events > Add"
Cleary label as a reflection
e.g. Reflection PGT date
In the review area you can document
Experience gained
Resulting change
For a larger reflection you may want to write a word document or create a presentation – this is fine to but again we would recommend labelling it appropriately so it is easy for your assessors to see it is part of your reflective practice.
With regard to reflecting on complaints/SUIs there is a section on the ePortfolio dedicated to this and reflections on these events need to be uploaded to
"Trainee role > My Details > Complaints/SUIs > Add" 
Again if there are any questions your ES will be able to help. 
All clinical assessments (OSATS, DOPS and CRS), MSF, CSR and ESR will automatically upload to your ePortfolio.
Additional evidence - things like, Thank you letters, presentations, certificates, form R, evidence of GMC survey completion, Eyelogbook report, EyeSi report etc, and any other evidence that you think will support your training you will need to upload to your ePortfolio yourself.
How to upload additional evidence?
"CPD role > Additional evidence > Add"
This screen will appear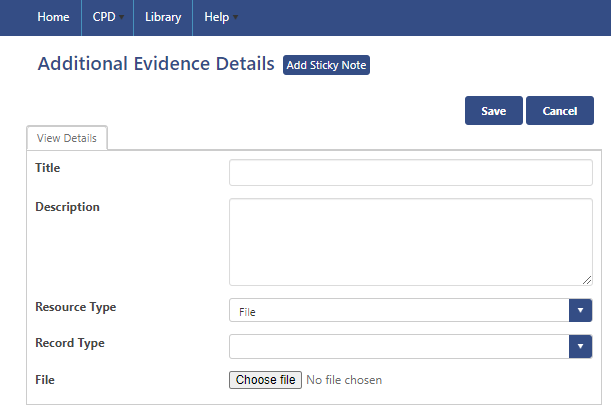 Upload the file you want and choose a record type which best describes the item:
Audit
Certificate
Compliments/Thank you letters
Eyelogbook report
GMC training survey certificate
Interim report
Leadership/Management/Teamwork
Ongoing Research
Other roles and achievements
Out of Programme form
Presentation or Poster – you will also need to enter Presentation type and date
Prize
Publication – you will also need to enter Publication type, status and date
Reflection
Revalidation Form
Teaching and training
Other
Tip: Although your item can be searched for via record type it is also important you give it a descriptive title which makes it easy for assessors to find your documents
e.g. EyeSi report ST1
Uploading an Eyelogbook report
Firstly you will need to have documented all procedures in the Eyelogbook, and we recommend doing this at the same day the procedure is performed (or very soon after).
To create a report to upload to your ePortfolio, log into your EyeLogbook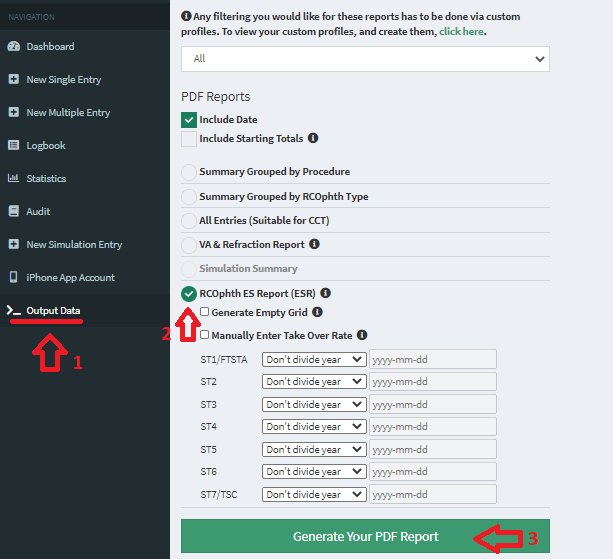 Step 1: Select Output data
     Step 2: Select RCOphth ES Report (ESR)
     Step 3: Click Generate your PDF report
  This will produce a report that separates all procedures to subspecialty, OST year of training and displays PC rupture and take over rates.
  This will then need to be uploaded to your ESR report and additional evidence, "CPD role > Additional evidence > Add"