The Leeds and West Yorkshire scheme is one of the country's largest, we strive to make training an individual experience tailored to the personal needs of each trainee. Our current establishment is approximately 90 trainees (including 2 dedicated IR trainees and 1 higher training post in neuroradiology) with an annual intake of 12-15 StR's per year. The scheme is based around the Radiology Academy in the Leeds General Infirmary and this facility has been developed in order to offer innovative training methods in Clinical Radiology. The Radiology Academy opened in 2005 and offers a wide range of facilities, including PACS workstations, state of the art computer equipment, dedicated teaching rooms and a skills laboratory. Use of these methods, in conjunction with clinical training, offers trainees the opportunity to progress quickly in the speciality, gaining both knowledge and experiences beyond those available from a conventional training scheme.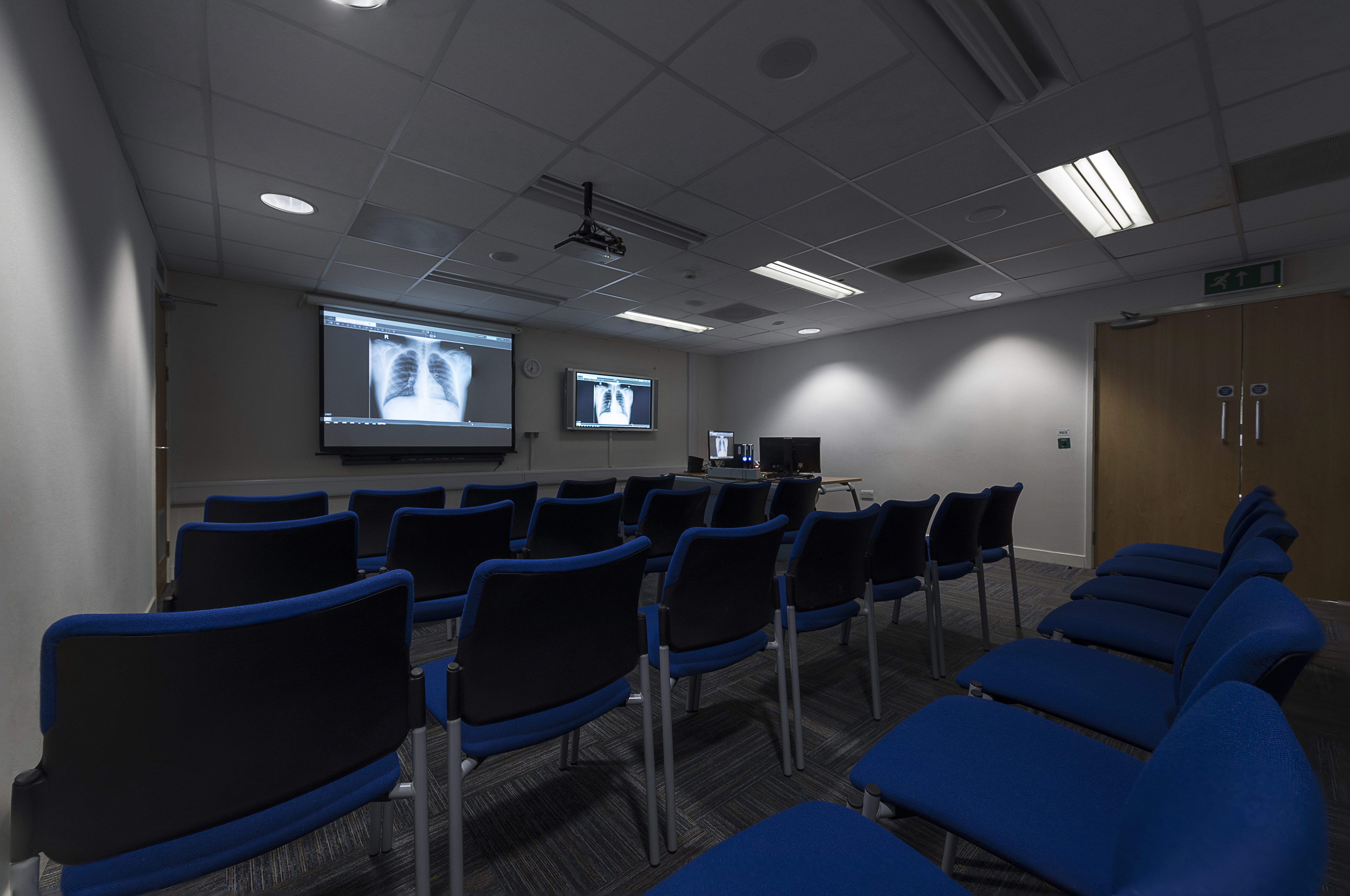 Radiology Academy small lecture theatre 
The Academy is just one part of the wider training scheme. Clinical training is based upon hospital departments throughout West Yorkshire. Trainees will experience attachments in large teaching hospitals in Leeds and Bradford, and also rotate to acute hospitals in Calderdale, Mid Yorkshire, York, Airedale and Harrogate. By undertaking clinical training in such a wide variety of hospitals, trainees will inevitably be exposed to a wide variety of trainers, working styles, examinations, and case mix. This combination affords unrivalled experience in clinical radiology, allowing trainees to develop expertise in the speciality. This ensures that they are well prepared for on-call duties, professional examinations, specialist training and the transition to a consultant job.
The training scheme is led by Dr Hannah Lambie (Training Programme Director), Dr Rish Ratnalingam (Deputy TPD) and Dr Ian Craven (Radiology Academy Lead). The  training scheme prides itself on producing high calibre trainees, including Gold Award recipients in 2016 and 2017 for the FRCR Part 2B.
Foundation Year/junior doctors interested in organising a 'taster' week to support their application for Clinical Radiology ST training should direct enquiries to lthtradiologytasters@gmail.com.  Other queries can be directed to the Business Manager, Carol Bailey, and Medical Administrator, Jane Kaye. All our contacts can be found on the Contacts page of this section.