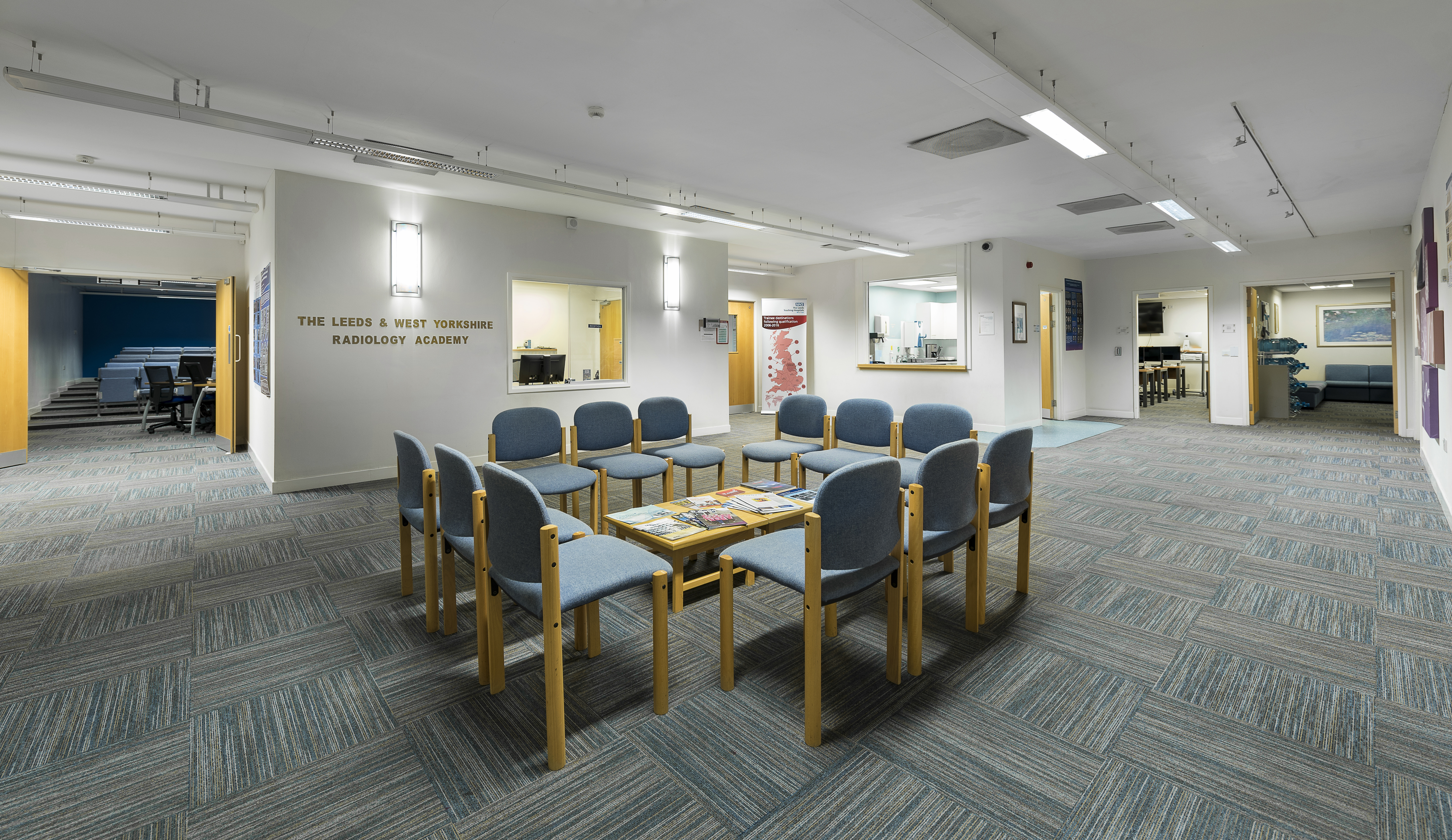 Radiology Academy reception area
The Leeds & West Yorkshire Radiology Academy was established in 2005 as part of the Radiology Integrated Training Initiative (RITI). It is a modern and well-equipped facility with an endless supply of tea and coffee and sometimes cake!
In addition to a large recreational area the Academy acts as the hub for the Clinical Radiology speciality training programme. Trainees spend two days per week based in the Academy up to Part 1 FRCR and subsequently one day per week up to the end of ST3.
Most Academy graduates have been appointed to consultant jobs in the UK and/or gone for further Fellowship training in the UK and abroad. 
Facilities
The Academy boasts a modern 70 seat lecture theatre and is the site of many conferences and multidisciplinary team meetings, which trainees are actively encouraged to attend. It has state-of-the-art AV equipment for image and pathology viewing, and facilitates video links with other radiology academies. A second smaller lecture theatre offers seating for 30 and with impressive AV capability. There are two computer rooms - the 'MacLab' was installed in 2017 with sixteen 21-inch iMac workstations and facilitates teaching using Cloud-based digital imaging libraries. Adjacent to the MacLab is a large PC room with over a dozen dual-screen workstations. A clinical skills lab offers equipment for various simulation training including ScanTrainer simulation hardware allowing trainees to practice their ultrasound skills independently outside of standard ultrasound teaching lists, in addition to a Toshiba unit which is available for peer-to-peer skills practice.  There is a dedicated PACS reporting room for supervised reporting sessions with 9 workstations and a library. Technology provision throughout the Radiology Academy is exceptional.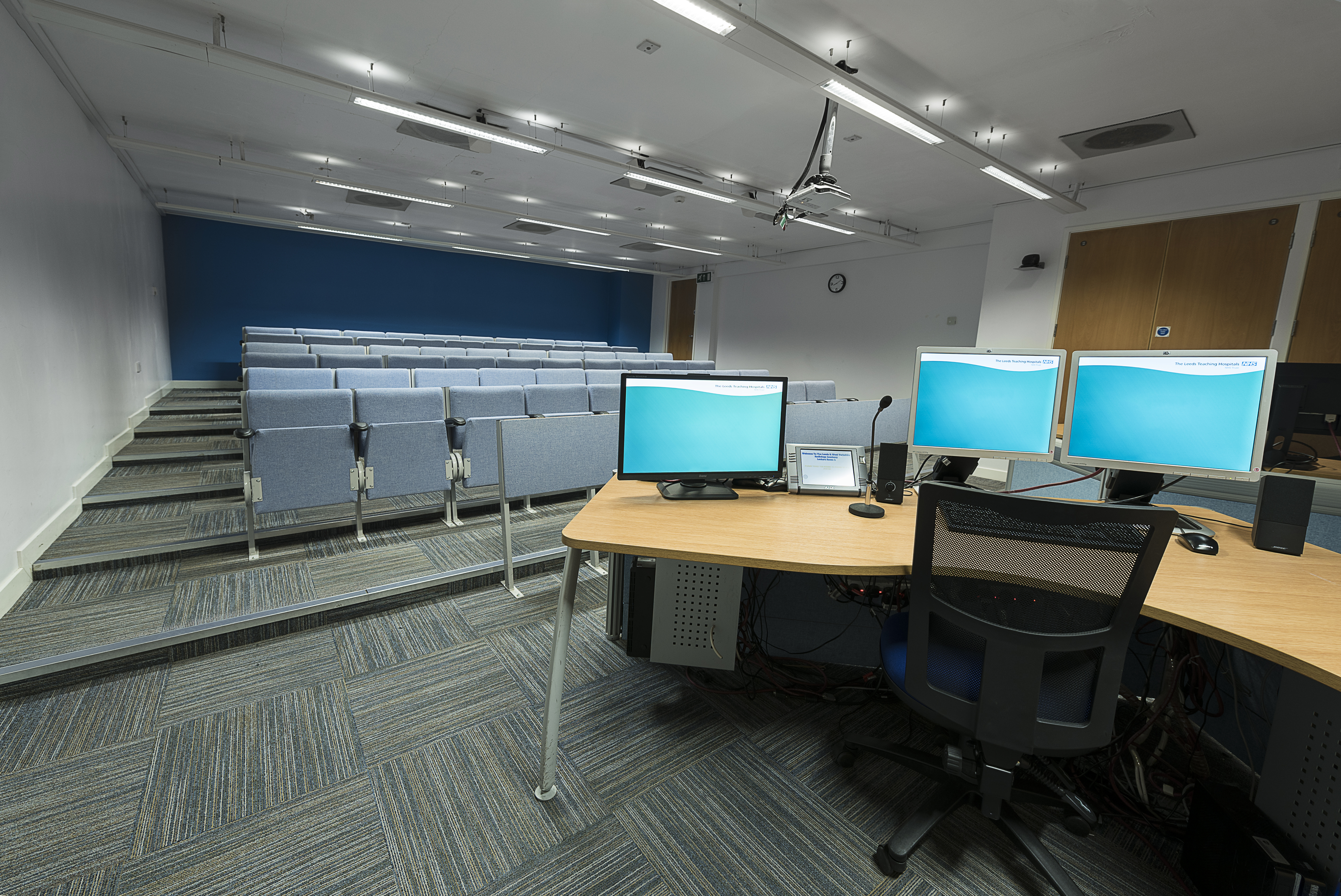 Main lecture theatre
Academy Training in Leeds
Delivery of the first three years of training is centred around the Academy and ensures that each year group develops and maintains a sense of community and identity which would otherwise be impossible with so many trainees.
The first year is initially targeted to meet the needs of the FRCR Part 1 examination (Physics and Anatomy). Once this hurdle has been cleared the emphasis changes to covering the core curriculum, where trainee's rotate through the various subspecialities in 3-monthly attachments, with the aim of developing trainees' competencies for service delivery and in preparation for on-call and the FRCR Part 2 examination. 
We constantly strive to improve the educational program and our coverage of the core curriculum is being updated to reflect the new Specialty Training Curriculum for Clinical Radiology and the Sub-Specialty Training Curriculum for Interventional Radiology (2010). A team of Special Interest Leads has been appointed to oversee the delivery of the core curriculum. Formal didactic teaching is complemented by frequent case based tutorials run in the MacLab, which allows everyone a workstation to work through cases and facilitates case-based group discussion.
Academy teaching is also complemented by a series of "away days" which are run elsewhere in the Deanery/region. This allows the trainees a day out and also gives an opportunity for other consultants around the region to make an important contribution to the educational programme.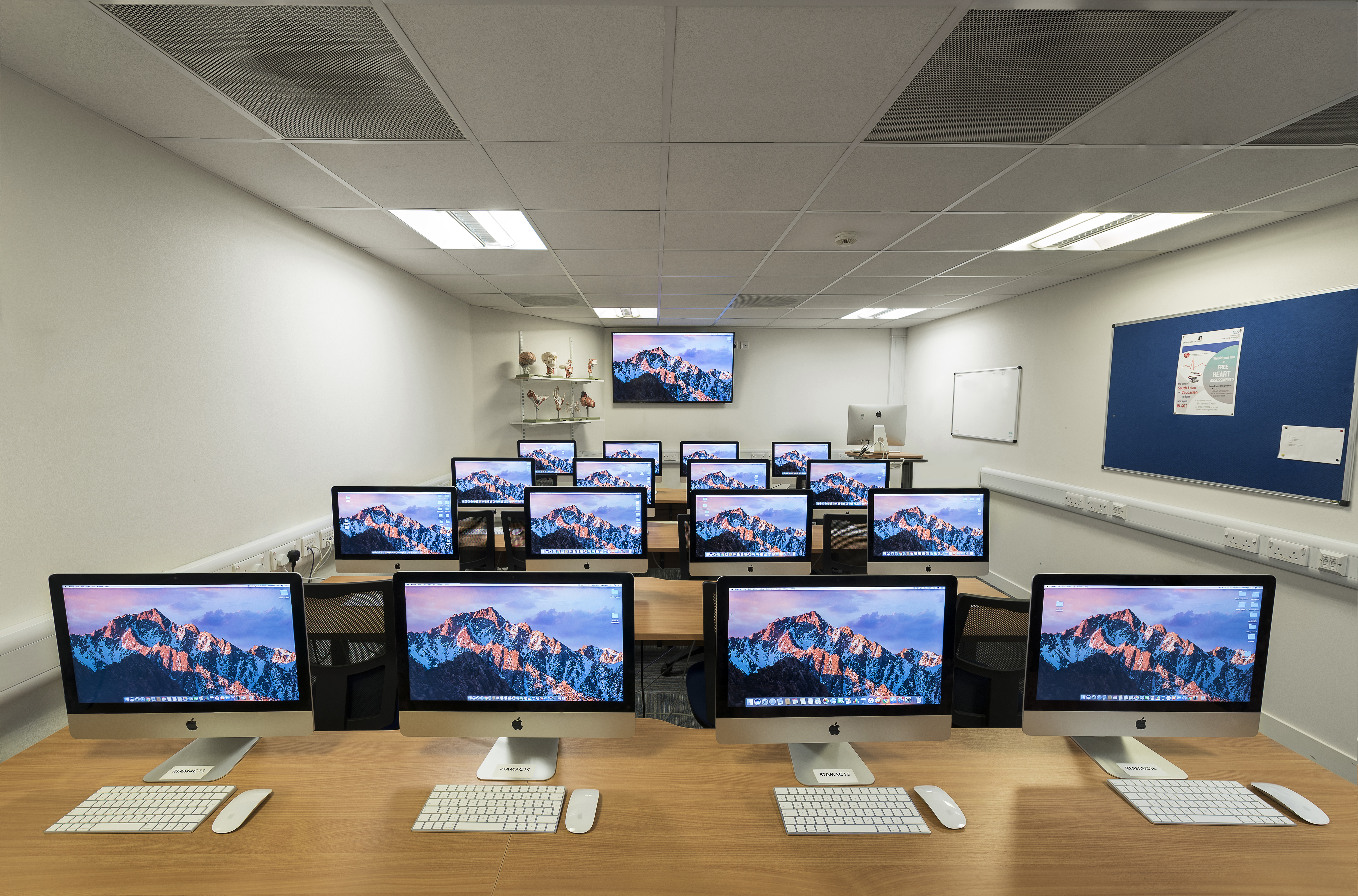 The MacLab
Novel opportunities
The Academy sets the standard in the use of new techniques. Exemplars are ultrasound training which starts in the Academy under the supervision of Terry Humphrey or Sara Riley, our consultant sonographers.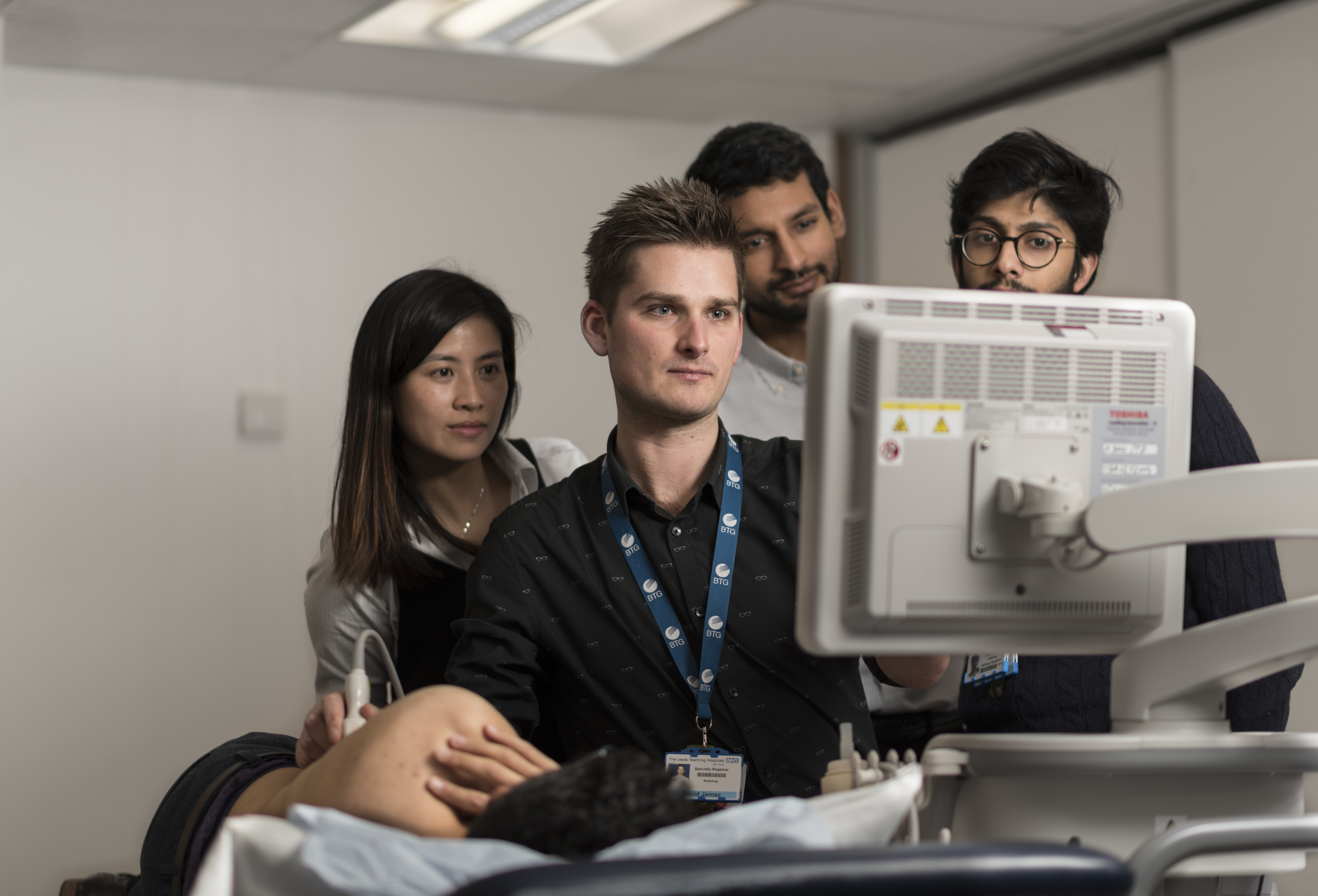 Radiology trainee's practice their ultrasound skills on the Toshiba unit available in the Clinical Skills lab.
Supervised Reporting
Daily supervised reporting sessions take place in the dedicated reporting room, a PACS suite with 9 workstations which blends training with service delivery. Each session is led by a consultant so that any queries can immediately be addressed. Some supervisors operate by a show-and-tell element where everyone comes together to look at all the interesting cases from the session. Overall these have been a great success with a convivial atmosphere and a huge output!
PACS Suite
Academy Fellowships
There are up to 3 post-CCT Academy Fellowships which combine radiological sub-specialty training with teaching at the Academy. Fellows spend 3 sessions in the Academy involved in small group teaching, film viewing sessions and supervision of ultrasound training. Previous fellows have been attached to diagnostic neuroradiology, musculoskeletal, gastrointestinal, vascular and neurovascular intervention, and paediatric radiology departments.
Finding the Academy
The Academy is on the ground floor (Level B) of Clarendon Wing in the Leeds General Infirmary. Enter the hospital via the main entrance in Jubilee Wing and follow signs to Clarendon Wing. The Academy is on the right hand side of the main corridor linking Clarendon and Jubilee wings. There is an entry bell to screen out undesirables – ring and when a muffled voice sounds then push the door open.