School of Paediatrics 10th Annual Meeting - 2019
We are delighted to announce that the School of Paediatrics 10th Annual Meeting will be held on Wednesday 13th November at the Majestic Hotel in Harrogate. This meeting which is organised for trainees by trainees is this year celebrating it's 10th anniversary and we look forward to celebrating with paediatric trainees, consultants, foundation year doctors, medical students and allied health professionals from across Yorkshire and the Humber. To make this a truly celebratory event the theme this year is Unsung Heroes of Paediatrics and we look forward to showcasing this in a variety of talks, worskhops and debate. The University of Leeds have kindly agreed to suspend their PGDip course for this date to enable even more trainees to attend.
Registration for the meeting will open this year on 3rd September so keep your eyes out for further details and save the date now!
In keeping with previous meetings there is again an opportunity to submit abstracts to be reviewed with the possibility of having a poster or oral presentation at the meeting. This is a great way to get your hard work showcased.
We look forward to seeing you all there. For any further information please email paediatricschoolmeeting2019@gmail.com.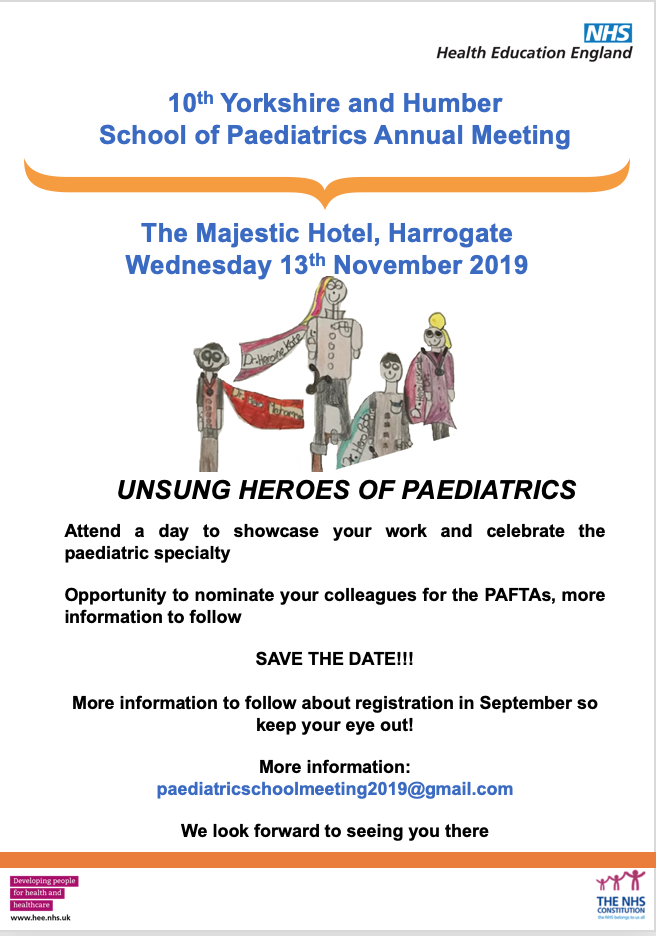 Abstracts
Abstracts should be submitted via a single word document or a Google Drive attachment and emailed to schoolmeetingabstracts@gmail.com. Please read the attached instructions regarding abstract submissions carefully, including the rules and regulations. The deadline for abstract submissions has been extended to 5pm on Friday 13th September.  Those who are accepted for poster or oral presentations will be notified by 27th September.
Submission Rules and Regulations
Please read the above document before submitting your abstract
Please review the above document for guidance on your abstract
Guide to Producing a Poster for Presentation
In the tradition of the Yorkshire and Humber School of Paediatrics Annual meeting, we are keen to help those trainees and students with successful abstract submissions. We aim tol provide a learning experience to improve their presentation skills, and this year we are very lucky to have this document, providing a useful guidance on how to do a high Quality Poster. We would like to acknowledge and thank Dr Catriona McKeating, Dr Bob Phillips, the TYAC Professional Education Group and the University of Leeds for this contribution
There will be following prizes this year:
            i.       Best Poster and Runner Up
            ii.      Best oral Trainee Presentation and runner up
            iii.     Best oral student presentation and runner up
            iv.     Best Research