Educational Programmes.
The Education
The Royal College of Paediatrics and Child Health has a defined curriculum for training. The paediatric training programme runs for a notional 8 years which is split in to 3 levels. You will be allocated an educational supervisor to help you gain the most out of your 8 years with us, with regular meetings to develop personalised learning.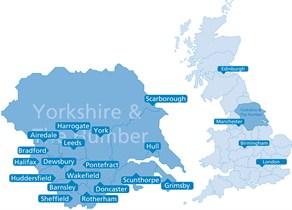 The Rotations
All three rotations can provide experience to complete level 1 and level 2 competencies. The rotations are called, East, West and South. Numerous different thoughts have pertained to what we should call them ranging from Tom, Dick and Harry (A Great Escape reference) through to Leeds, Sheffield, Hull/York. The problem with associating them with the 3 medical schools is that then no one thinks there is life outside of those locations. Anyway, here is the list of which hospital notionally belongs to which rotation.
East
Grimsby
Harrogate
Hull
Scarborough
Scunthorpe
York
West
Bradford
Calderdale (based in Halifax)
Dewsbury
Leeds General Infirmary
Leeds St James
Pinderfields
Pontefract
South
Barnsley
Bassetlaw
Doncaster
Jessop Wing
Rotherham
Sheffield Children's Hospital
There will inevitably be some blurring of the boundary zones. This will allow a little ebb and flow between numbers in each rotation as we account for maternity leave, less than full time working, and temporary allocation to another rotation for subspecialty exposure and out of programme experience. This is why we will have the same educational programme running through the whole programme, so we can allow this mingling to occur.
Some subspecialty experiences are only available in certain centres For example paediatric intensive care, cardiology, emergency medicine, infectious diseases, and academic posts to name some. Therefore, certain posts will be subject to internal LETB wide competition if they are popular choices. This is will occur for some posts in ST3, as well as some posts in ST6 to 8.
You also need to know that some hospitals are rearranging themselves. So, Pinderfields, Pontefract and Dewsbury are already one trust, but will not be on one site for a few years yet. In Leeds the same is going on with all paediatrics being transferred to the Leeds General Infirmary over the next year or so. There may be other re organisations along the way as well. So there will be some adjustments, but it is highly likely whatever the structure it will be similar to this.
Your next question is likely to be how do I get the rotation of my choice?
In order to answer that you need a little more information: Across the entire LETB there are likely to be 40 to 50 ST1 posts, a small number of which will be an academic posts (currently one in Sheffield and one in York, but there are likely to be more coming available - up to 5). The academic post are appointed to by a national process prior to specialty recruitment. We also may have some runt through posts starting at ST2, ST3 and ST4, depending on post development, maternity leave and less than full time working rates. There may also be some year long locum appointments for training (LATs) again probably at ST2, ST3 and ST4, depending on the afore mentioned factors.
The ST1 posts are likely to be split between the three localities, but these numbers may flux over time.
| | |
| --- | --- |
| Rotation | ST1 Posts |
| East | 12 |
| South | 16 |
| West | 18 |
Successful applicants will be offered a rotation based on your performance at selection and the needs of the localities. This is to ensure that the children of one area are not denied the best and brightest paediatricians. However, significant attention will be given to personal circumstances in 6 priority tiers. These are based on the assumption that people are more important than property.
1. Personal health care – tied to an area for critical health needs eg ongoing illness requiring specialist treatment.
2. Dependent children, but only if tied to a specific location for some reason;

Health ties most important eg special school, access to tertiary care
Secondary school next most important, especially if approaching major examinations such as GCSE or A levels
3. Adult connections

Partners tied to an area by job or education
Dependent family members tied to an area
4. Community connections 

Religious ties
Other community ties
Sporting activities
5. Property connections

Declaring owning a property
Declaring a residency in an area
Family connections in a particular area 
6. Personal preference, but no evidence
Multiple reasons: It is difficult to make reasons cumulative as this, say, could be discriminatory against single parent applicants so only the highest tier reason should be used. And yes there are several doctors in this category on the rotations.
Validation of reasons: Only information supplied by candidates can be used in priority setting. This method was used very effectively in the General Practice recruitment over the last two years. Just to reassure you anyone who stated a preference in the last year's recruitment between tiers 1 and 3 got their first choice. Only two doctors got their 3rd choice and they only expressed preference 6.