Yorkshire and Humber Trainee Forum
The influential voice for trainees:  Ensuring postgraduate doctors & dentists in training in the YH region are fairly, equitably and transparently represented.
We aim to drive improvements in quality of education and training, well-being and support.
APPLICATION PROCESSES
&
VACANCIES
Applications to the Trainee Wider Forum are always open and all applications are on a non-competitive basis
See below for more details 
(Applications to the Trainee Executive Forum recently closed on 10th March 2023).
Trainee Executive Forum - applications closed 10th March
The representative roles of the Executive Forum include:
Chair

Vice Chair            

Secretary 

Quality Lead    

Locality Leads (East, South, West)

Wellbeing & Support Lead

Equality, Diversity & Inclusion Lead (2 roles )

Employers Lead

Wider Forum Lead

Communication & Engagement Lead

Less than full time (LTFT) Lead          
What does membership to the Executive Forum involve?
The aim of the Trainee Forum is to improve postgraduate doctor and dentist in training engagement with the work of HEE YH to improve the quality of training and education in the region. As a Executive Forum member, you'll be working alongside other executive members to seek opinions and present the views of all postgraduate doctors and dentists in training in the Yorkshire and the Humber region, both to the Trainee Forum and to HEE YH. You will be actively engaged in local and regional improvement projects and helping to find examples of good practice and share them. Some role responsibilities will vary between roles, depending on the specific role each executive member holds. 
Current roles include chair, vice chair, secretary, wider forum lead, quality lead, wellbeing and support lead, employers lead, locality lead (East, South, West), equality diversity and inclusion lead, less than full time lead and communications and engagement lead.
The Executive Forum meets monthly, within working hours and each meeting last approximately 3 hours. 
Executive Forum members are entitled to two sessions (equivalent to 1 day) of professional leave per month to complete Trainee Forum work and to attend Executive and Wider Forum meetings.
What are the opportunities?
Being a member of the trainee forum will give you a number of opportunities:
Leadership and management skills for personal and professional development (including to meet required training competencies).

Opportunity to represent, meet with and work alongside your fellow postgraduate doctors and dentists in training, colleagues and seniors within HEE and Yorkshire and the Humber.

Develop a greater understanding of the functions and roles within HEE YH and the management of education and training across the region.

Completion of two leadership courses funded by HEE YH (Effective meetings) and (NHS Structure and Power Dynamics).

Completion of the healthcare leadership 360 appraisal and receive bespoke feedback on this (2 hour 1:1 session). 

Membership of the Trainee Forum is a significant leadership and management opportunity. An annual certificate and/or letter of contribution/confirmation of attendance will be issued acknowledging meeting attendance and thanking members for their engagement, work and support. 
Check out the documents below to find out more about specific role job descriptions and the application process for the Trainee Executive Forum.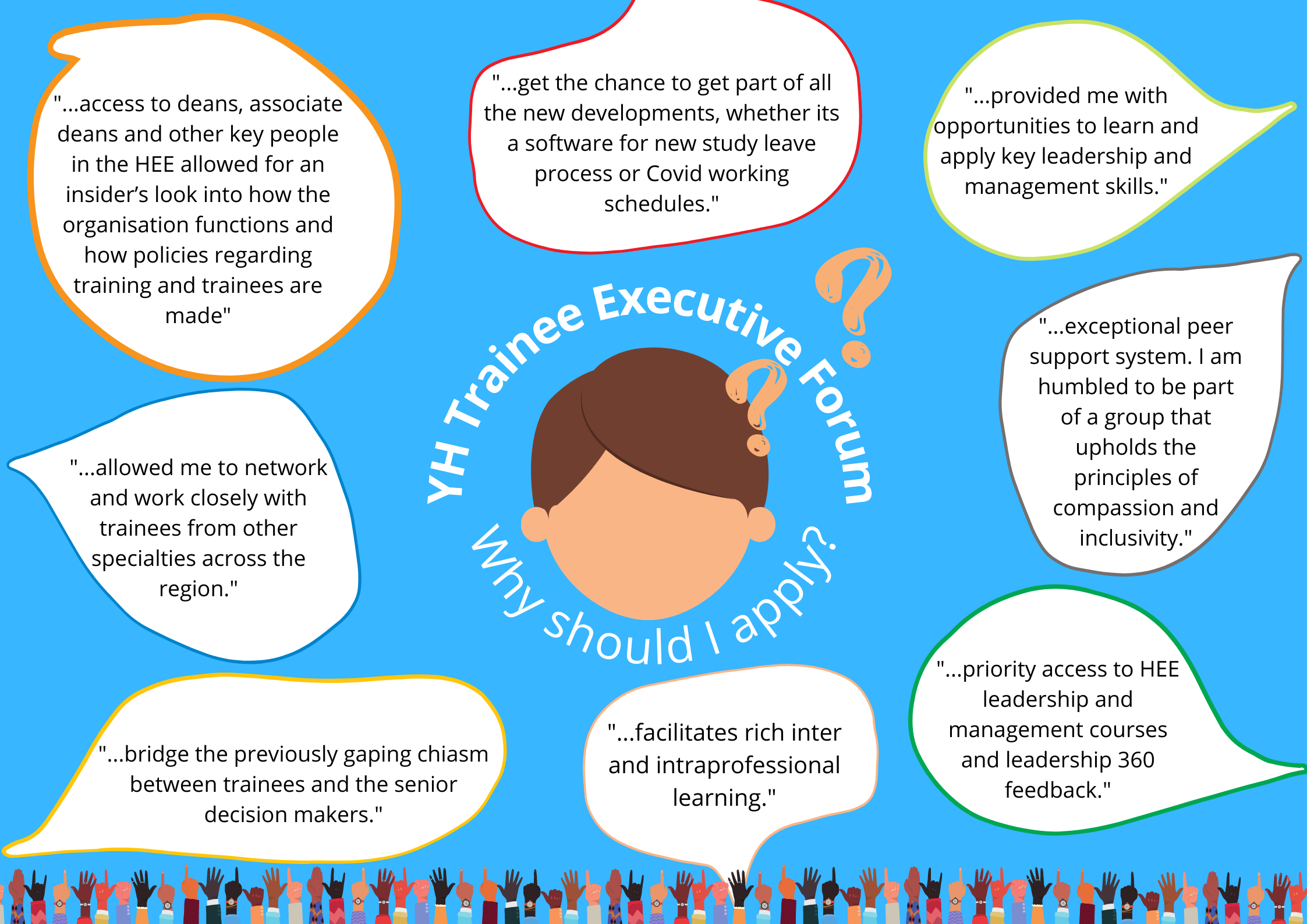 Trainee Wider Forum - applications always open 
We are continuing to accept application of interest to the Wider Forum. All applications are on a non-competitive basis: everyone is welcome!  
Should there be multiple applicants from the same hospital/specialty and rota, there may have to be a selective application process via reviewing CV's.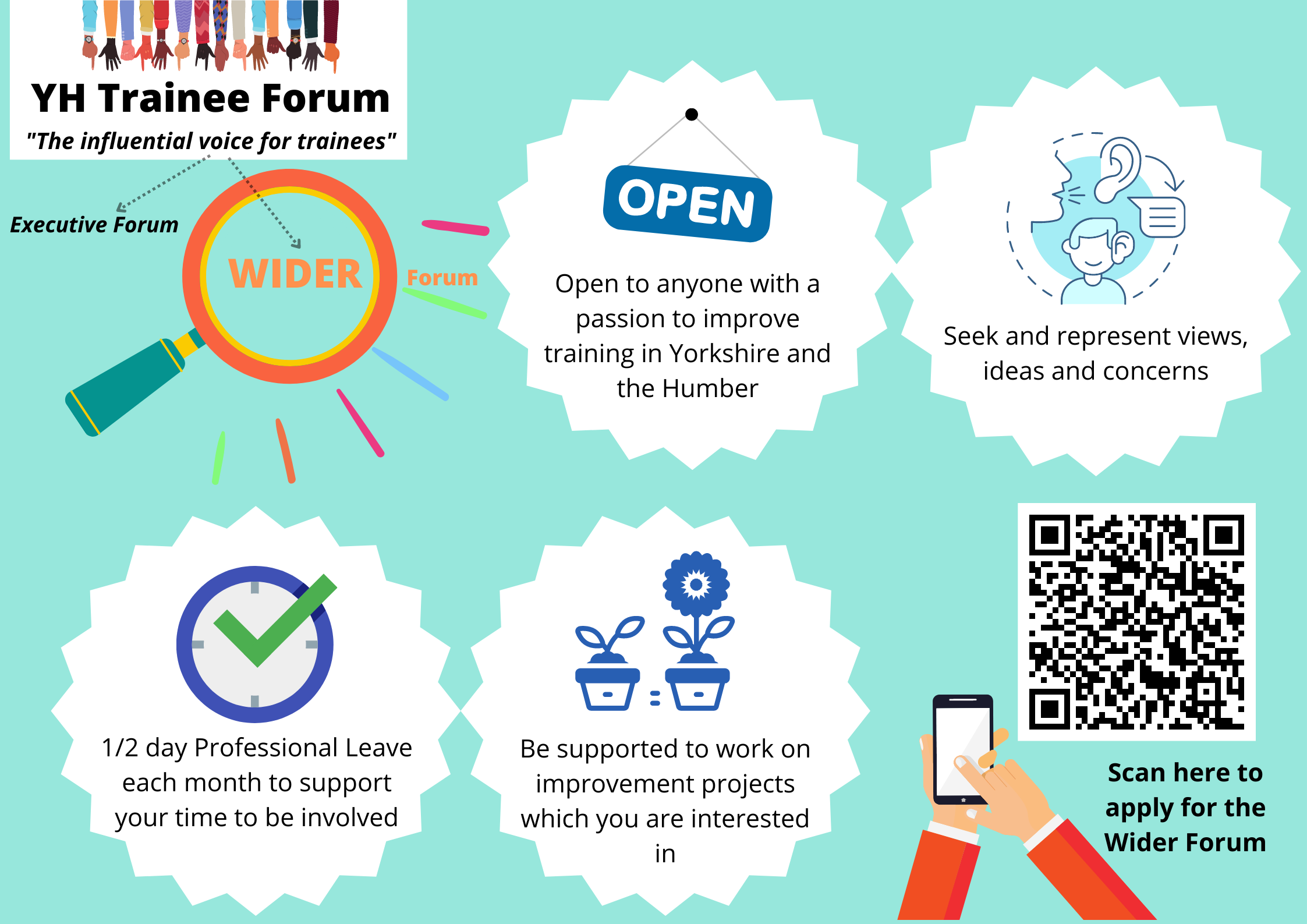 See the documents section below for the wider forum description and the application process.