Practical Skills and Simulation Training
There has been a significant investment into simulation facilities across Yorkshire. Many education centres run anaesthesia courses covering anaesthetic emergencies, airway management, critical care transfer, paediatric emergencies, obstetric anaesthetic emergencies and human factors. You can access simulation courses in any of the three hubs. Suitable courses at convenient venues and dates can be booked online via the individual simulation centre website.   
Please see the Recommended Courses section to see which courses are suitable at each stage of training. There are contact details on this page and in that section too - contact them directly for more information.
The courses listed below are displayed in chronological order (where possible).
********
Core Trainee Airway Simulation Course
HILS Clinical Skills Facility, Hull
Tuesday, 12 September 2023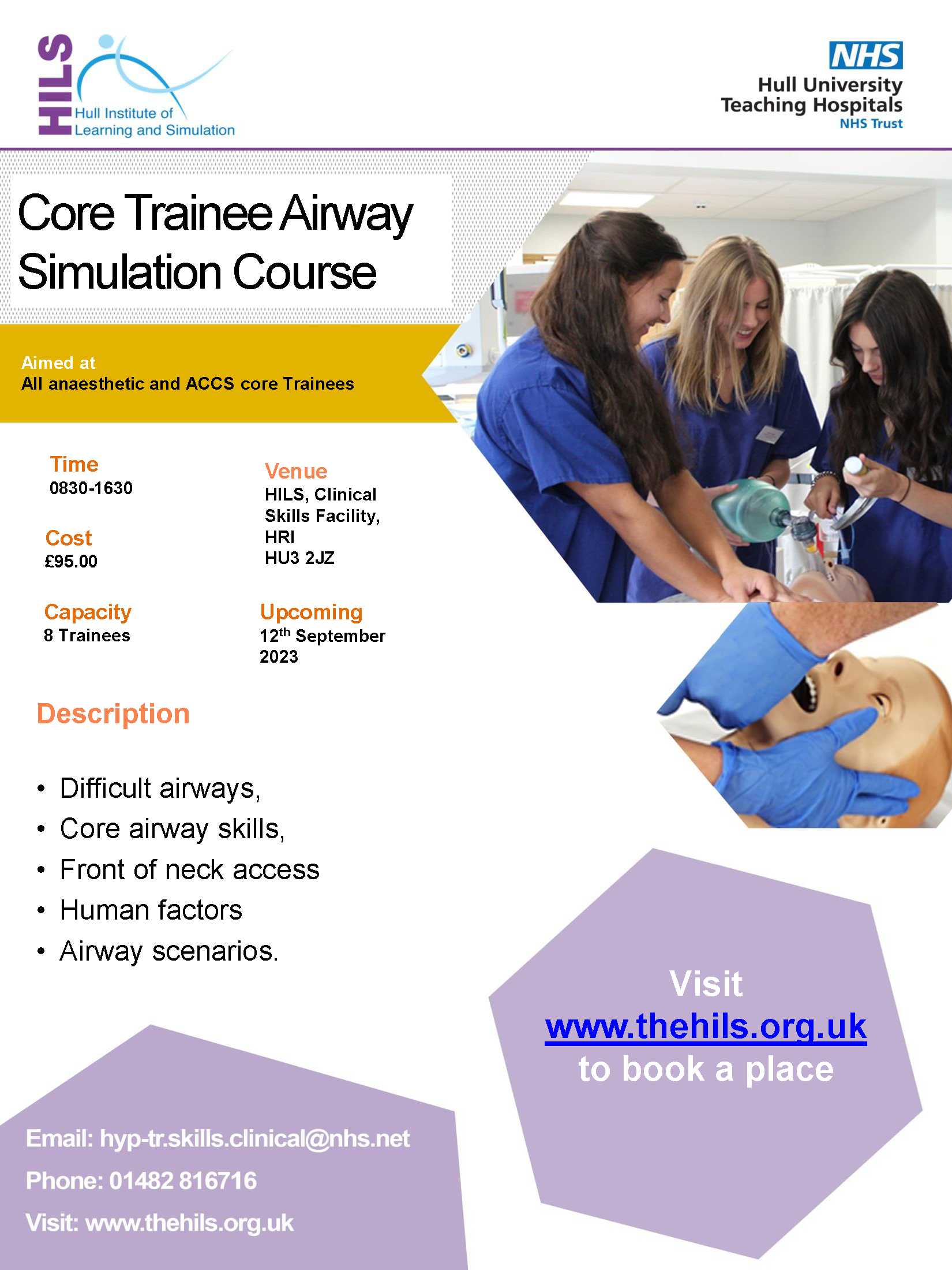 ********
Obstetric Anaesthetic Crisis Resource Management
Education Centre, Pinderfields, Wakefield
14 September 2023
 

click on poster to book
********
Transfer Course
HILS Allam Medical Building 
Monday, 18 September 2023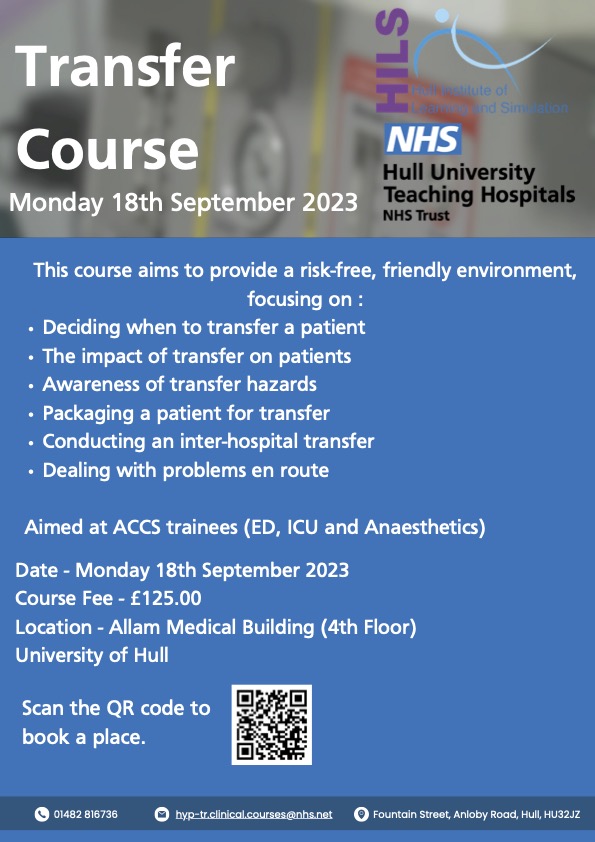 ********
Yorkshire Difficult Airway Workshop
Medical Education and Simulation Hub, Pinderfields, Wakefield
Friday, 29 September 2023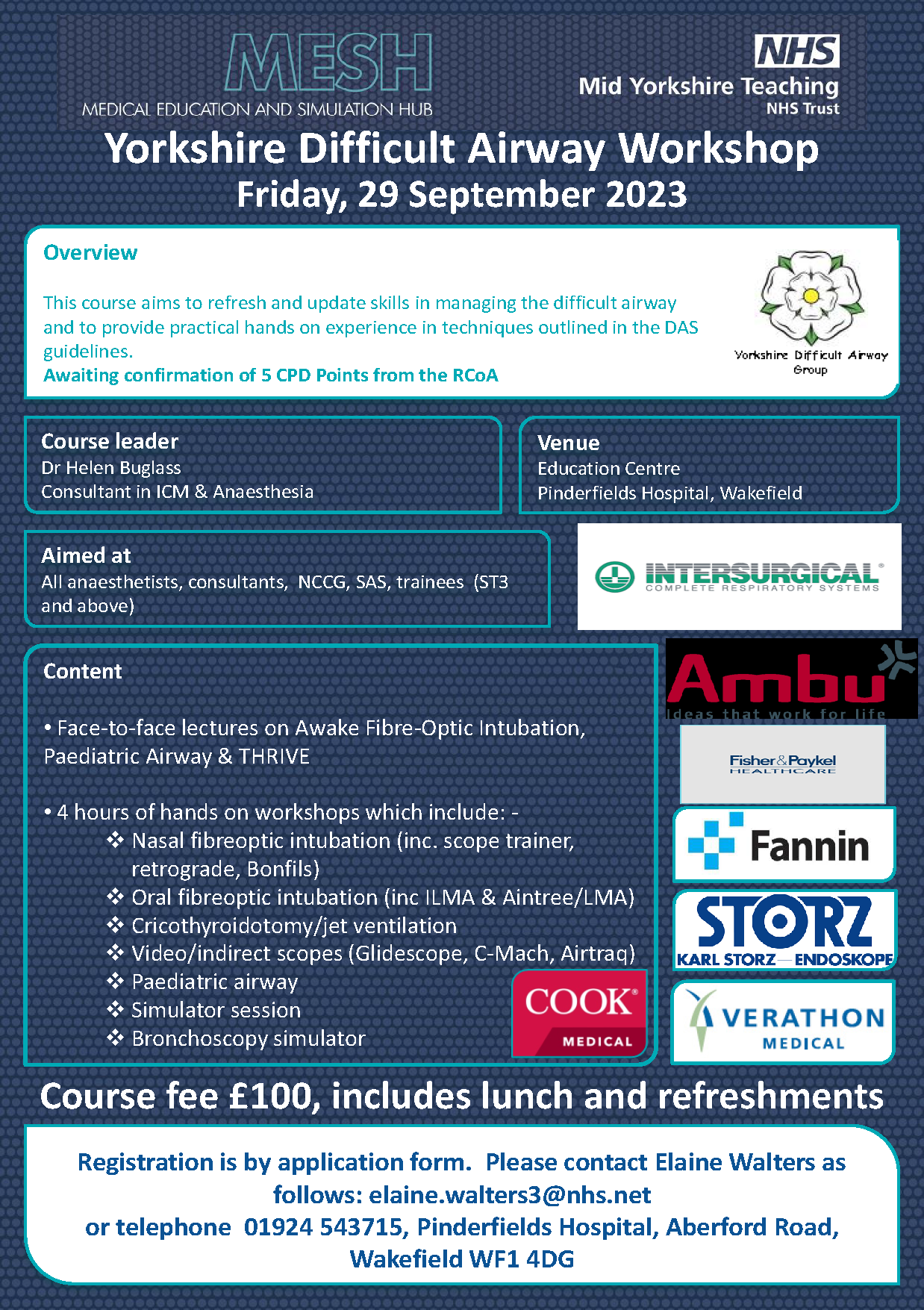 click on poster to download booking form
*******
Critical Care Transfer Course
Bradford Royal Infirmary
20 October 2023
(additional dates to be confirmed)
suitable for Stage 1 trainees
to book: facilities.administration@bthft.nhs.uk
********
MEPA 
Managing Emergencies in Paediatric Anaesthesia
HILS Clinical Skills Facility, Hull
Tuesday, 14 November 2023

********
East Yorkshire Difficult Airway Course
HILS, Hull University Teaching Hospitals
Monday, 9 October 2023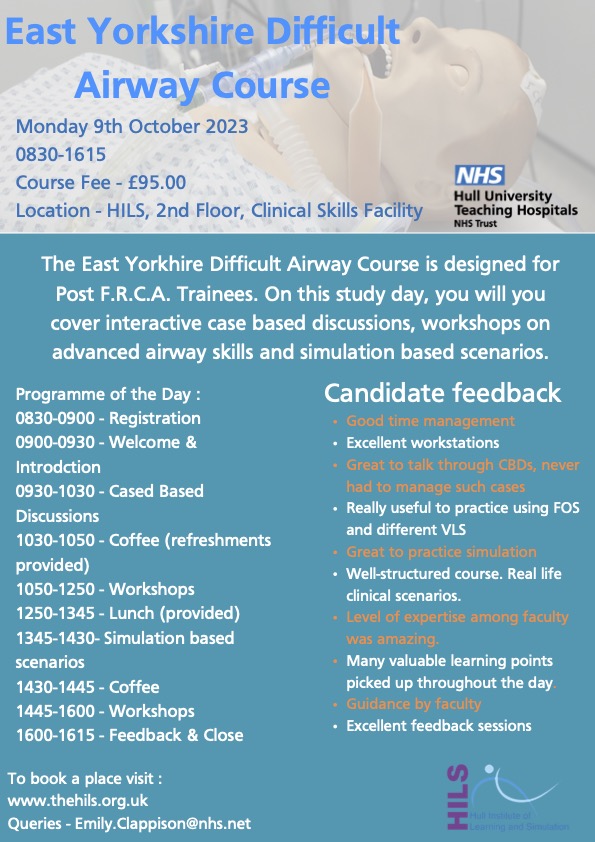 click flyer to book or request further information
*******
Critical Incident Course
HILS, Hull University Teaching Hospitals
Monday, 16 October 2023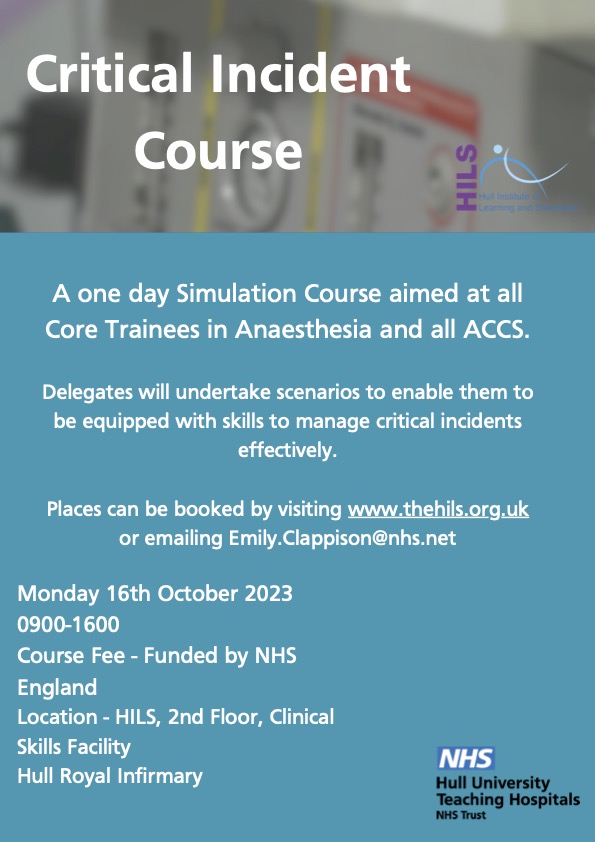 click flyer to book or to request further information
*******
The Obstetric Advanced Anaesthesia Simulation Training of Yorkshire (TOAASTY)
HILS, Hull Royal Infirmary
Tuesday, 17 October 2023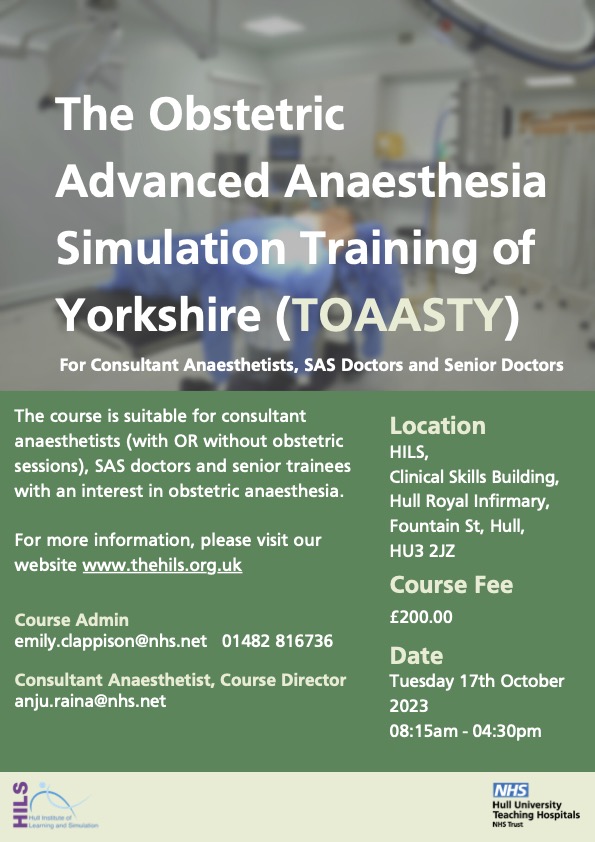 click flyer to book or request further information
*******
MDT Chest Drain Course
HILS Clinical Skills, Hull Royal Infirmary
Monday, 23 October 2023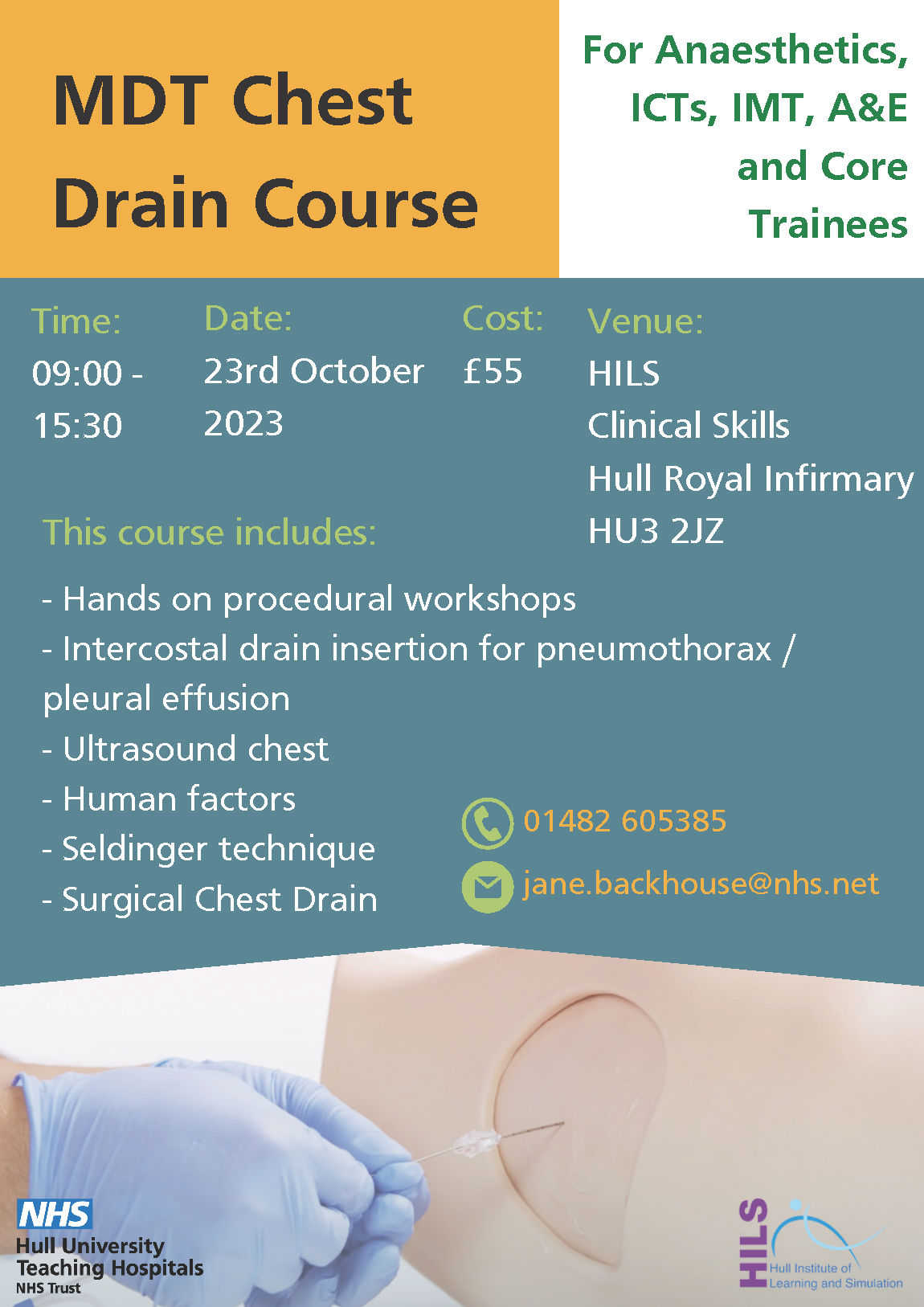 click on flyer to book
*******
Regional Anaesthesia Course
HILS, Hull University Teaching Hospitals
Wednesday, 25 October 2023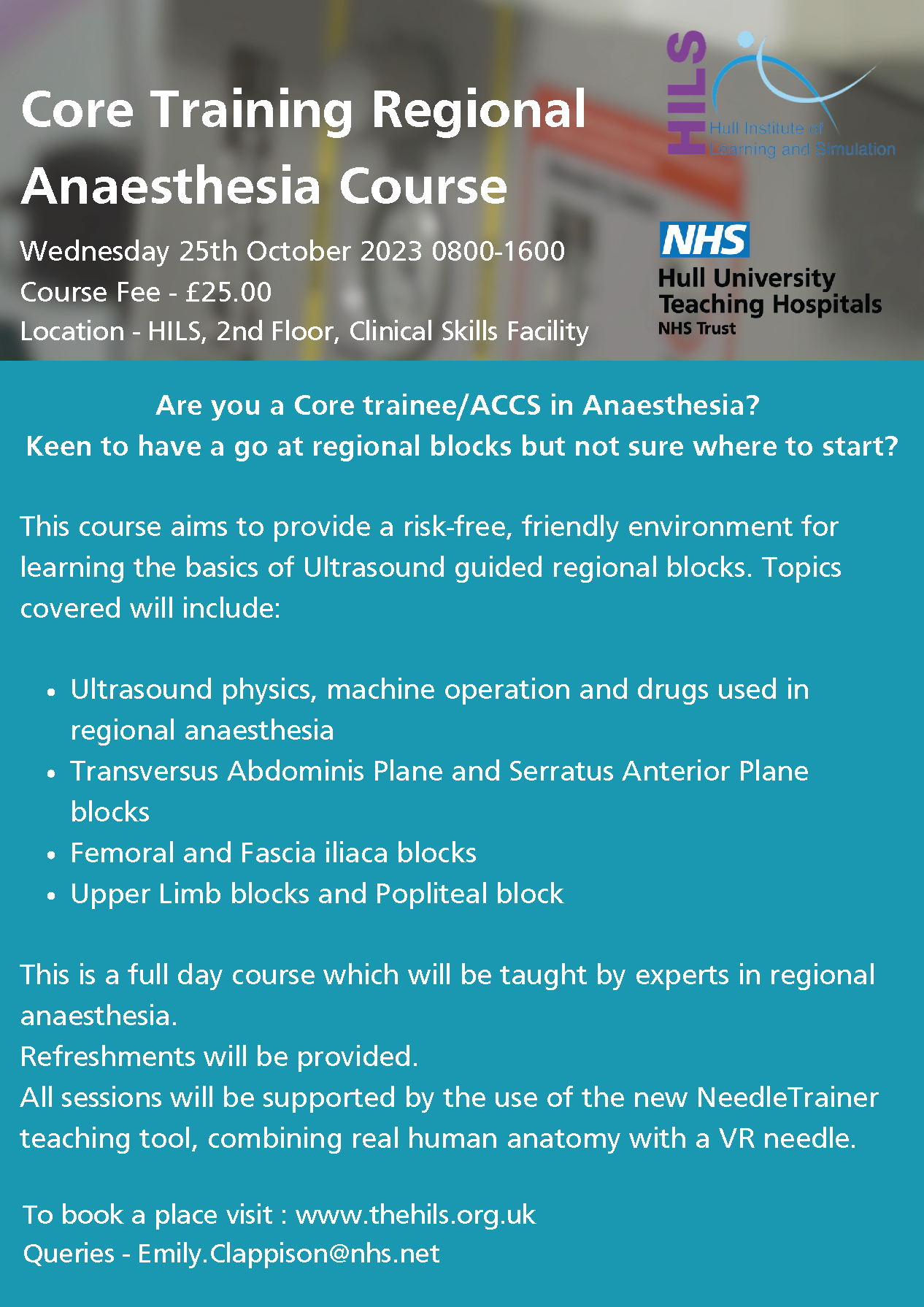 ********
FUSIC-SY 
Holiday INN, Barnsley
6,7 November 2023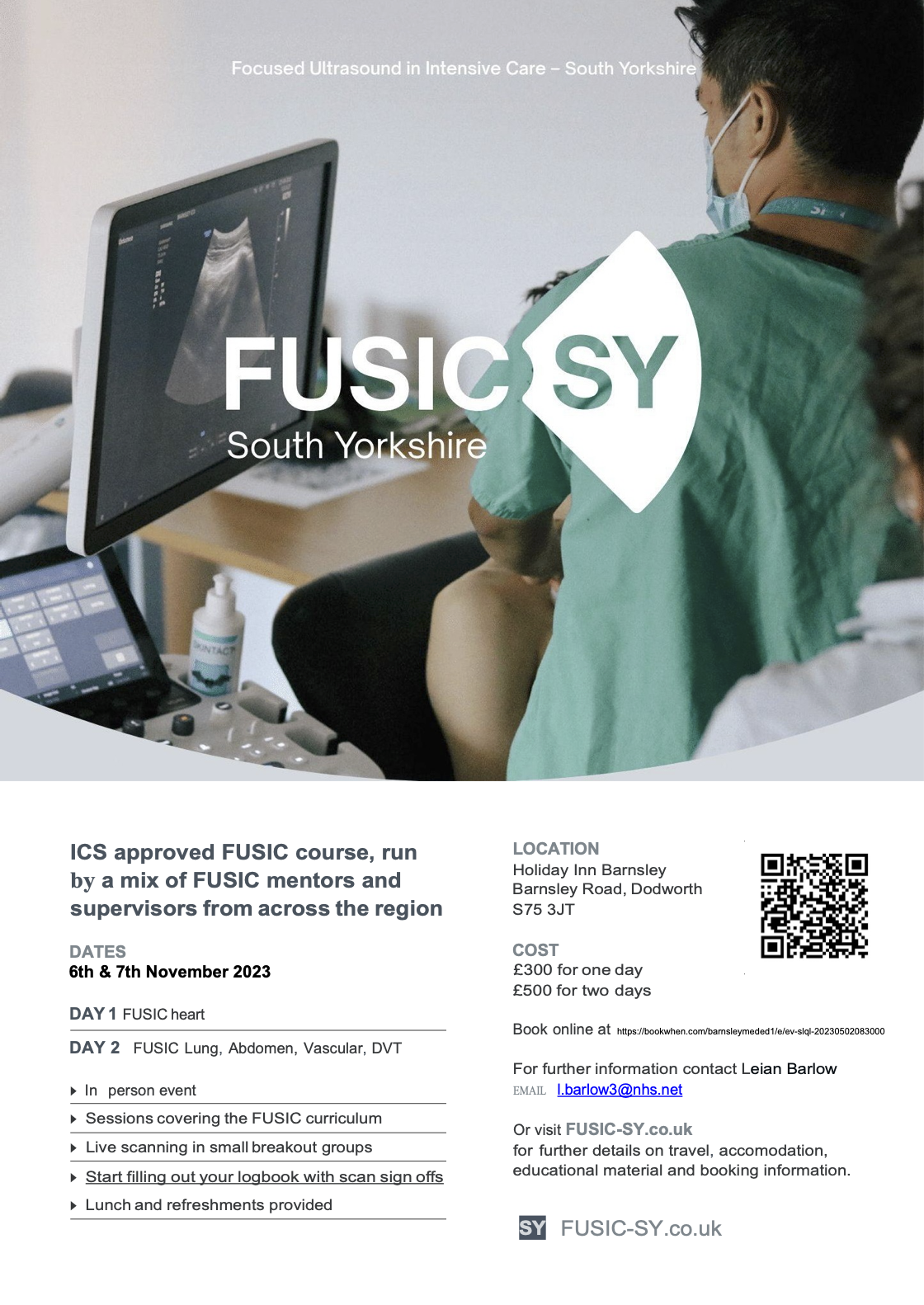 ********
Cadaveric Ultrasound Guided Peripheral Nerve Block Course
Wednesday, 8 November 2023
Monday, 13 November 2023
Department of Anatomy, University of Leeds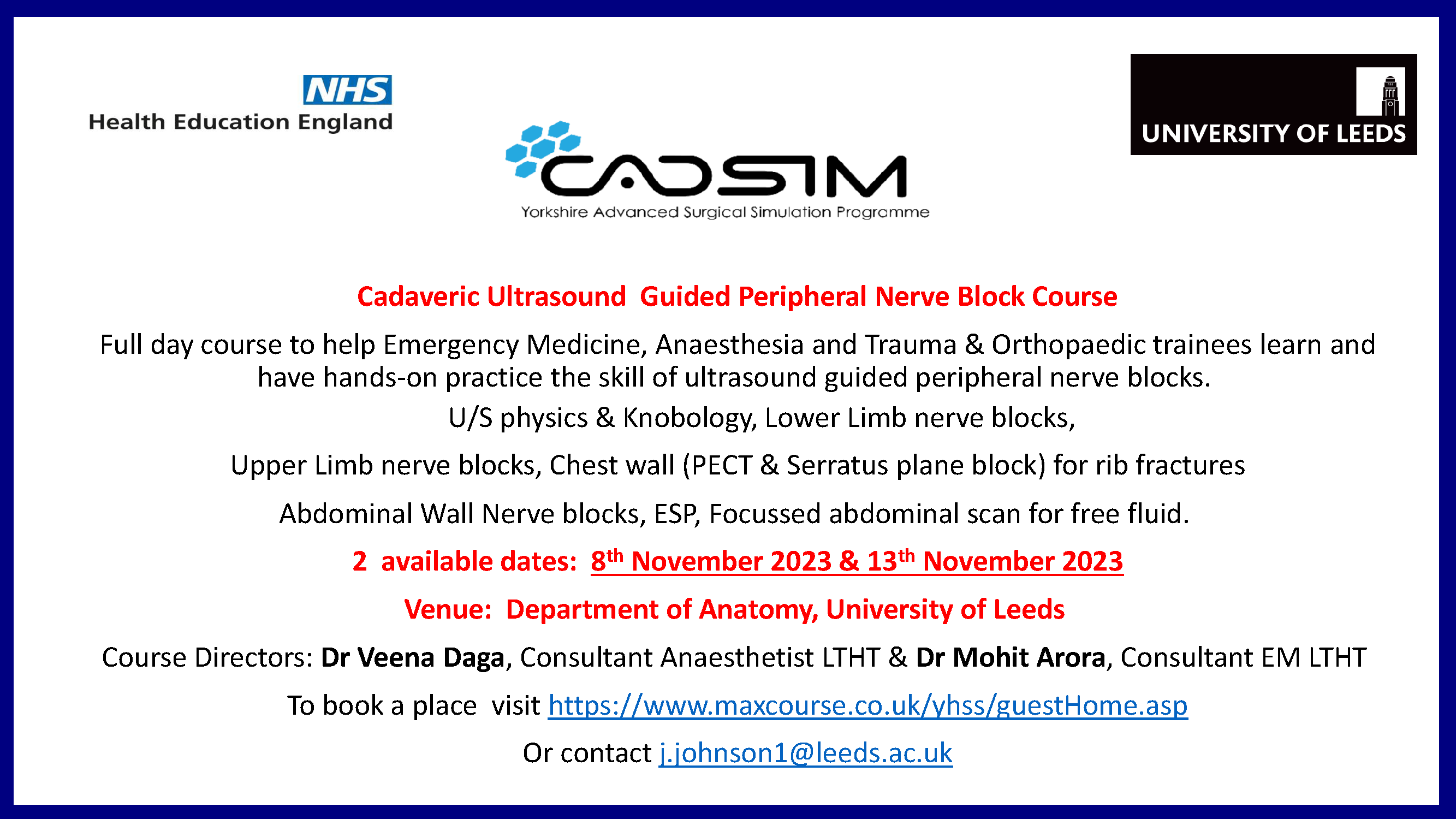 click on flyer to book
********
 
Obstetric Anaesthesia Emergencies
Simulation Centre, Bradford Royal Infirmary
Tuesday, 14 November 2023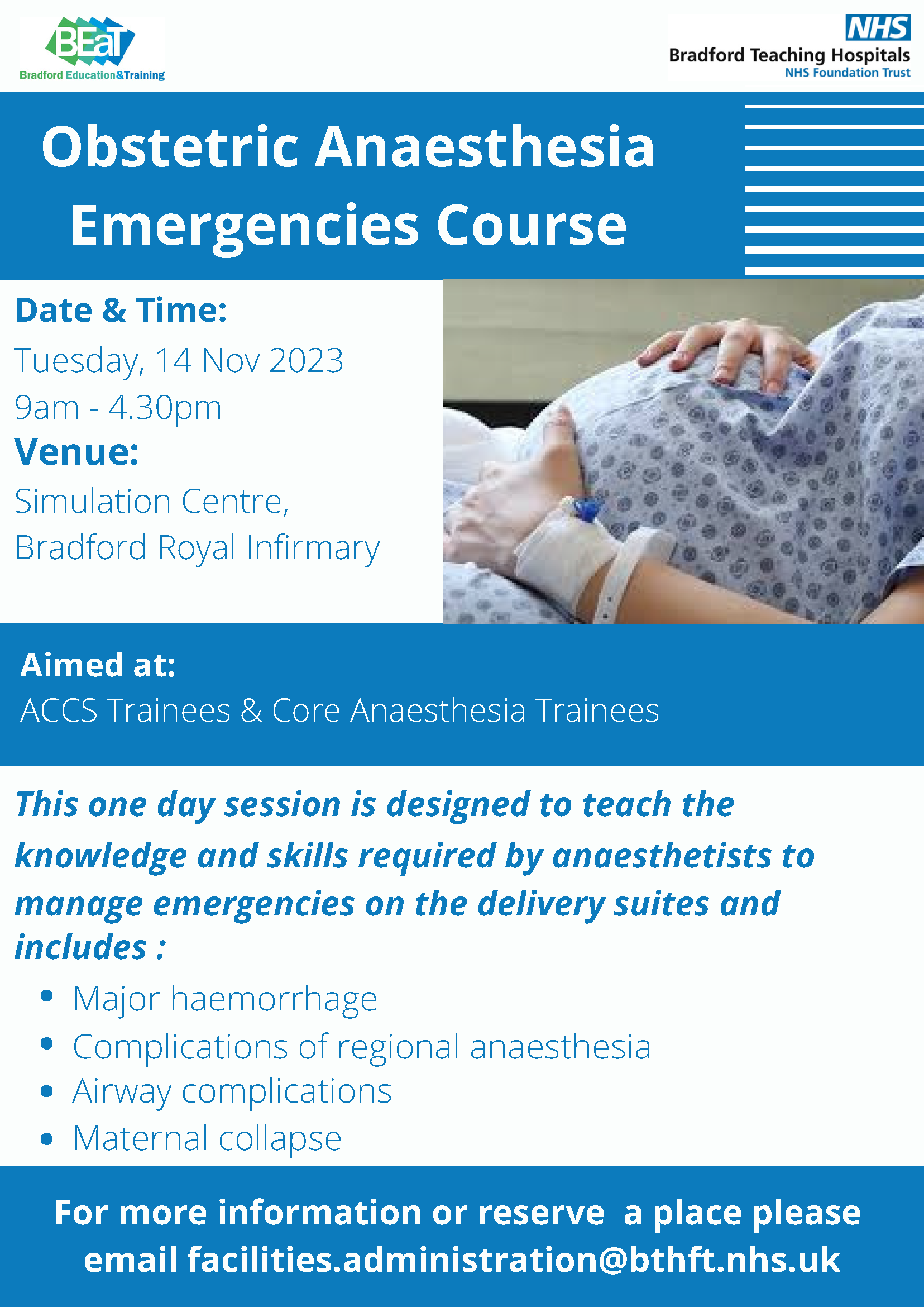 ********
The Sheffield Major Trauma Course
Wednesday, 29 November 2023
Northern General Hospital, Sheffield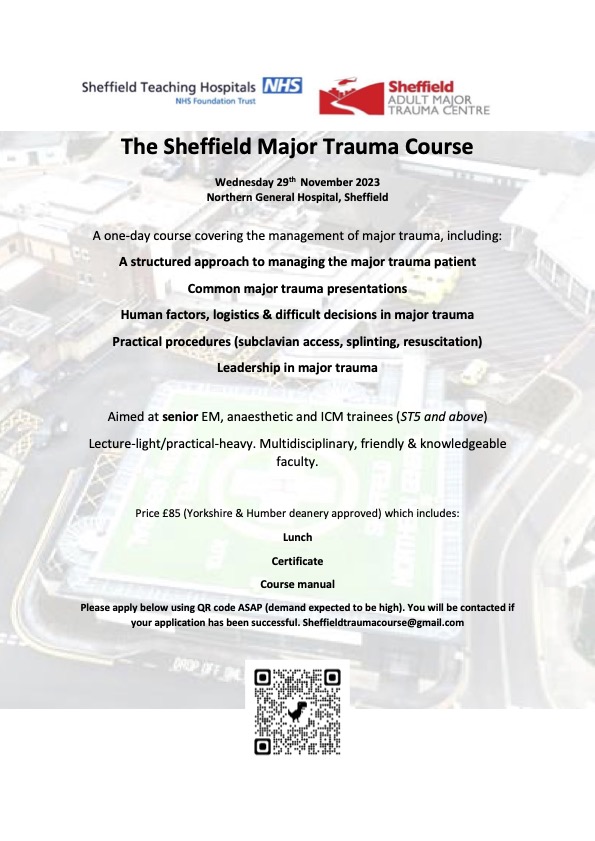 Click the flyer to book a place
*******
Yorkshire Anaesthetic Trauma Course
Leeds General Infirmary
Friday, 22 March 2024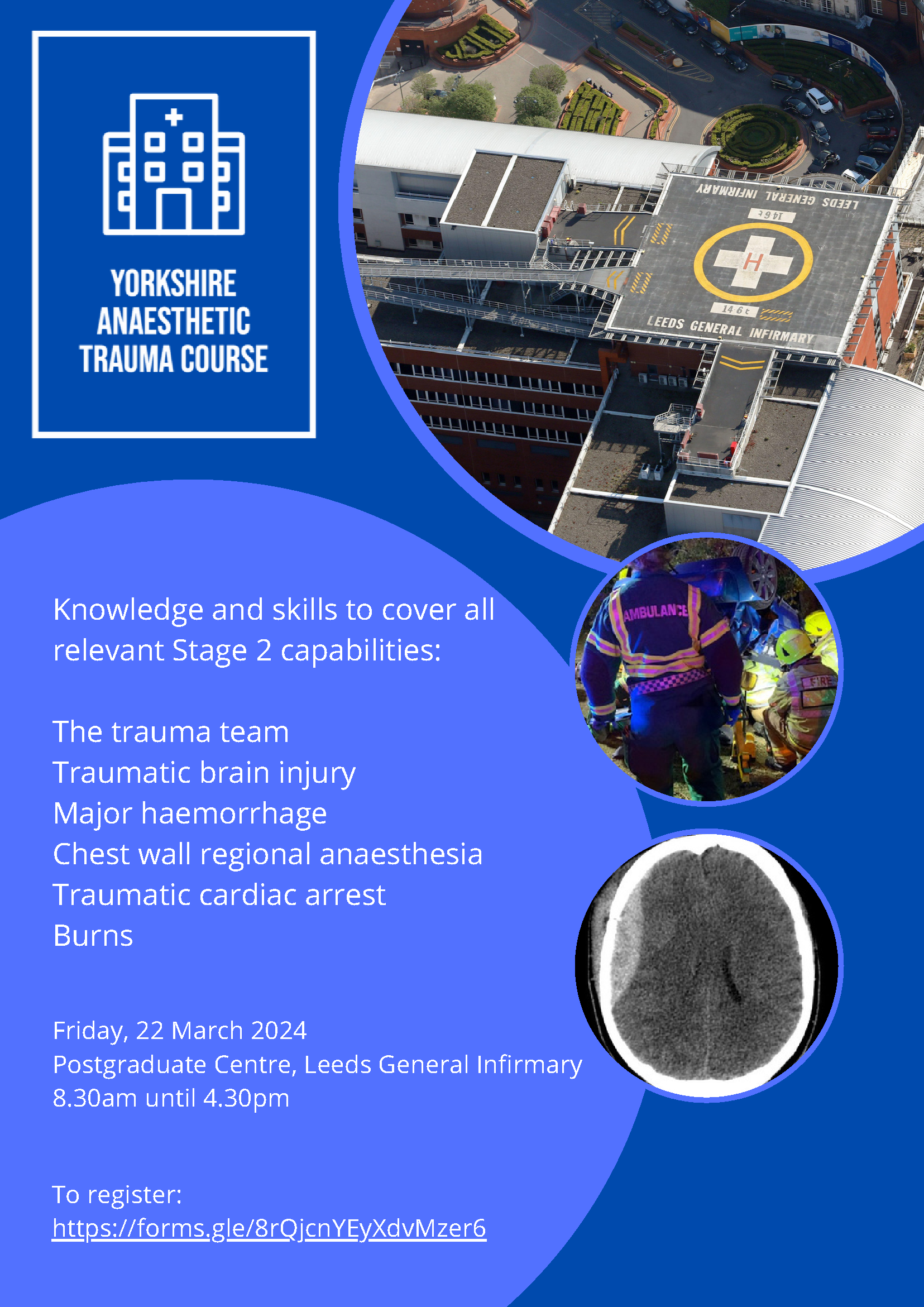 click on flyer to register